Page Hero

State Criminal Justice Network
NACDL's unique State Criminal Justice Network (SCJN) provides a medium to exchange information, share resources, and develop strategies for promoting rational and humane criminal justice policies. In addition, it seeks to educate the general public about the many issues that influence, and policies that affect the criminal justice system. As a result, SCJN's listserv does not require membership in the organization.
To join the network, please send a message with your full contact information to advocacynetwork@nacdl.org.
About the Network Initiatives & Projects Other SCJN Resources
SCJN Conference
What is the NACDL State Criminal Justice Network (SCJN)?
The day to day work of state level criminal justice reform is supported by committed individuals and organizations including lawyers, judges, advocates, formerly incarcerated individuals, policymakers (on both sides of the aisle), and even district attorneys and members of the law enforcement community. The State Criminal Justice Network (SCJN) is represented by just a few of these entities including representatives from NACDL state affiliates, affiliate lobbyists, public defenders, advocates and individuals, working to promote progressive criminal justice reform in their jurisdictions.
Through the SCJN, NACDL seeks to:
Facilitate communication on substantive issues and advocacy strategies among legislative contacts across the country;
Create national momentum and attention to high-priority criminal justice reform initiatives; and
Provide resources and support to members, affiliate organizations and partners in the form of legislative action alerts, legislative tracking, model legislation, news updates, events, and more!
We encourage participants to fully engage in the listserve in order to receive the full benefits of its membership. Want to know what other state laws have been enacted? Post questions, share events and job opportunities, and gain valuable insight from fellow state criminal justice advocates. A newsletter is disseminated monthly to provide a snapshot of NACDL's state criminal justice priorities.
More on the State Criminal Justice Network
To join the network, please send a message with your full contact information to advocacynetwork@nacdl.org.
---
Initiatives/Projects

Continue reading below
This is a sponsored ad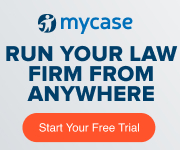 MyCase
Manage Your Law Firm All in One Place
NACDL Annual State Criminal Justice Network Conference: Every year, NACDL brings together advocates from around the country for our annual State Criminal Justice Network Conference. This conference offers participants the opportunity to hear from experts on state criminal justice reform and the opportunity to network of like-minded advocates. The 2021 State Criminal Justice Network Conference was held as a live virtual event on August 18-20, 2021.
2021 CONFERENCE AGENDA 2021 CONFERENCE MATERIALS More on SCJN Conference

Public Defense Social Media Toolkit: NACDL is leading a social media campaign to highlight the consequences of cutting public defense budgets. Cutting or underfunding public defense systems has devasting consequences that adversely impact individuals accused of crimes, their families and the broader community. During a time when state and local budgets have been devasted by the COVID-19 pandemic, it is imperative that policymakers understand that cutting public defense funding only increases overall costs to communities. NACDL encourages its affiliates, partner organizations and other supporters to consider sharing the following graphics and sample social media language on your social media channels. Help NACDL raise awareness on the importance and benefits of robust and adequately funded public defense systems.

Second Look = Second Chance: The Case for Reconsidering Lengthy & Other Extreme Sentences: At the current pace of decarceration, it will take 75 years to cut the total U.S. prison population by half. While most reform has focused on reducing the potential for individuals to enter the criminal justice system, dismantling mass incarceration will also require addressing those currently serving lengthy and extreme sentences. On March 11th, NACDL brought together practitioners and advocates for a discussion on "Second Look Sentencing," an emerging legislative trend that seeks to provide individuals with the opportunity for resentencing after they have served a certain amount of time in prison. Please visit the link below to access the recording and other webinar resources.
Race and the Criminal Legal System Discussion Series: This on-going webinar series seeks to highlight how race intersects with various issues in the criminal legal system, navigating these racial disparities, and ways to advocate for change. Previous events have focused on issues around policing, pretrial practices, public defense, collateral consequences, and prosecution. Please check the webinar resources page for access to recordings of previous discussions updates regarding additional events.

Looking Forward: Modern Strategies for Prosecution & Defense: On July 8th and 9th of 2020, NACDL and the Association of Prosecuting Attorneys (APA) co-sponsored a three-part webinar series on modern strategies for prosecution and defense. Defenders, prosecutors, and community stakeholders discussed the rising trend in "progressive prosecutors" - the changes to be implemented in prosecution, challenges and opportunities for defenders, and how community stakeholders can hold their elected officials accountable.
Webinar Recordings and Related Materials

Champion of State Criminal Justice Reform Award: The NACDL Champion of State Criminal Justice Reform Award recognizes an individual or group whose exceptional efforts have led to positive changes to reform a state criminal justice system. The award is presented each year at NACDL's Annual State Criminal Justice Network Conference. On August 19th, 2021, the 2021 Champion of State Criminal Justice Reform Award was presented to Illinois State Senator Robert J. Peters, Illinois State Senator Elgie R. Sims, Jr., and Illinois State Representative Justice Slaughter for ushering in the passage of the SAFE-T Act.
Award Nomination Guidelines and Past Recipients


SCJN National Advocacy Calls on Developing Legislation: These teleconferences feature an expert on an issue area and are designed to educate criminal defense lawyers and advocates across the country on a variety of criminal justice issues.
Listen to National Advocacy Calls on Developing Legislation

SCJN Electronic Newsletter: This monthly newsletter features a snapshot of NACDL's state crminal justice priorities, as well as, recent internal and external criminal justice reports, information on upcoming events, webinars, current state legislative reform efforts, legislative tracking, action alerts and more!
---
Other SCJN Resources
State Legislative Tracking: Click the banner below to view state criminal justice legislation in all 50 states and Washington, D.C. that NACDL is currently tracking!

At the end of each year, NACDL's goal is to highlight the various legislative victories in numerous jurisdictions. Check out over 170 legislative victories from 2020 in the December 2020 issue of The Champion.
2020 State Legislative Victories

NACDL's Legislative Action Center: Check out NACDL's Legislative Action Center to find and contact your legislators, take part in NACDL's advocacy campaigns, and sign-up for legislative alerts.
NACDL Legislative Action Center

NACDL's Advocacy Resource Center: Find advocacy tools, guides, and services to get in contact and build relationships with your elected officials.

NACDL State Advocacy Resources: See how NACDL can assist you in your legislative and advocacy efforts!

Reports: A compilation of reports which focus on state-level policies across the country.

Explore keywords to find information