NACDL strives to assist you with your legislative and advocacy efforts through a variety of resources.
State Legislative Tracking: NACDL tracks over 30 state criminal justice issues congruent with NACDL's strategic goals. These reports are shared monthly through our SCJN newsletter. To view a full report of all state legislation NACDL is currently tracking,

Legislative Action Alerts: As an affiliate or partner organization, you have the opportunity to utilize NACDL's advocacy platform to disseminate legislative action alerts to prompt our network of advocates to contact their elected officials.
Expert Witness Fund: This is available to affiliate and partners who seek to bring in a witness to testify before a legislative committee or hearing. An application is required.
Logistical Support for Advocacy Events: This can include lobby day preparation and execution and other community events.
Additional advocacy support can include:
Submitting a letter of support or opposition from NACDL;

Organizing a sign-on letter of other state and national criminal justice organizations;

Author op-eds or recruit other organizations to submit op-eds; and

Legislative meeting coordination.
For information on any of these resources, please contact NACDL's Director of Advocacy, Monica L. Reid, at mreid@nacdl.org.
This is a sponsored ad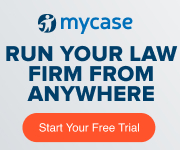 MyCase
Manage Your Law Firm All in One Place