Why Become a Life Member?
Life members receive an elegant crystal sculpture engraved with the NACDL logo, your name, and the words Life Member.
You'll have an expanded profile in the online membership directory, linked to your listing in both the Member-To-Member and the free, public Find-A-Lawyer directories. Browse the Life member directory.
When other members, especially life members, are looking to refer a case outside of their jurisdiction, expertise, or capacity, they're more likely to refer it to another Life member. And of course, you'll never have to pay NACDL membership dues again.
The reason most people give for becoming a life member is that they believe in the work NACDL does toward making the criminal justice system fairer, and want to make a long-term commitment to that work.
There are lots of other benefits of NACDL membership that are available to all members. If you haven't checked them out lately, please take a look at the list. Those are, of course, yours for life, as well as others we will add going forward.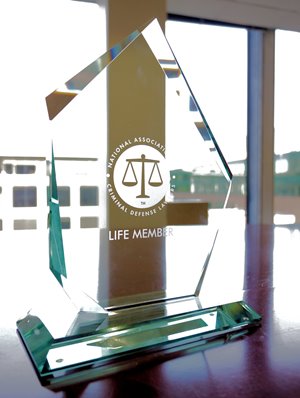 Cost: The dues rate for Life Membership is $6,500, payable in a lump sum, or in five annual installments of $1,300.
Find out what NACDL Life Members say about the value of Life Membership!
To get started, download the application here or call Member Services at 202-872-4001.
There are two other enhanced membership options for criminal defense attorneys in private practice in addition to Life Membership:
Sustaining Membership: A donor membership that includes an expanded profile with photo & bio in the online membership directories. Annual Dues: $529
Presidents Club Membership: A donor membership that includes an expanded profile with photo & bio in the online membership directories. Annual Dues: $759