Membership in NACDL saves you time on research by providing access to a searchable brief and motion bank; expert referrals from NACDL members in a wide variety of areas, including forensic disciplines; assistance from the Lawyers' Assistance Strike Force; and support from our resource counsel attorneys.
Senior Resource Counsel Vanessa Antoun and Resource Counsel Jessica DaSilva manage the Resource Center by providing technical and substantive support to NACDL's members. For inquiries, information, or assistance, please contact resourcecenter@nacdl.org. To submit new materials or expert referrals, please upload them using the form below.
Only NACDL members may access the Resource Center. If you are not a member, visit to join today.
Continue reading below
This is a sponsored ad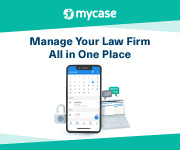 MyCase
Manage Your Law Firm All in One Place