Events Supporting NFCJ
The NFCJ provides critical funds to help NACDL meet its mission. To help raise these funds, NFCJ holds various fundraising events throughout the year. Below is a listing of currently planned events, and links to past events which include listings of our very generous sponsors. To them, and all who support the NFCJ, we are grateful.
UPCOMING EVENTS
Celebrate NACDL's 65th Anniversary at the Redemption Gala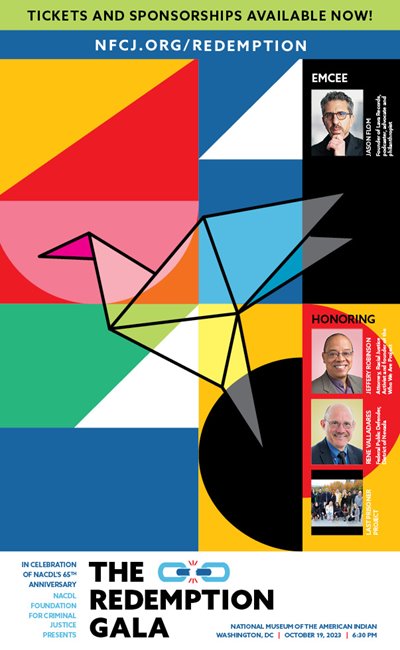 October 19, 2023. More information HERE
RECENT FUNDRAISING EVENTS
Justice and Jazz in the Quarter
On March 2, 2023, NFCJ/NACDL joined forces with LACDL at the Toulouse Theater in New Orleans, LA. Learn more at nfcj.org/nola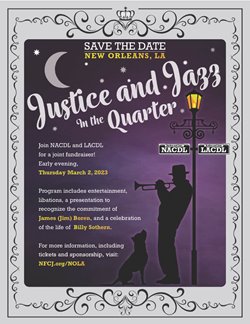 AUGUST 12, 2022 - Celebrating an Icon of Defense - A Reception Honoring Albert J. Krieger, Palm Beach, FL.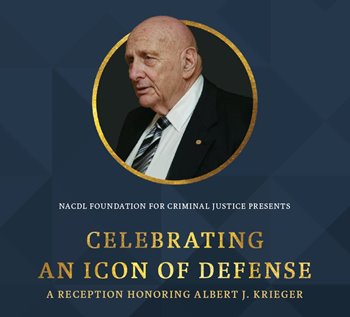 Friends, family, members and supporters all gathered together on August 12, 2022 at the Circle Ballroom at the Breakers in Palm Beach, FL for a cocktail reception, silent auction, open bar and a very moving presentation honoring one of NACDL's founders and most ardent supporters.
Learn more here: nfcj.org/krieger
MAY 2022 - A Night Under the Stars, Chicago, Illinois.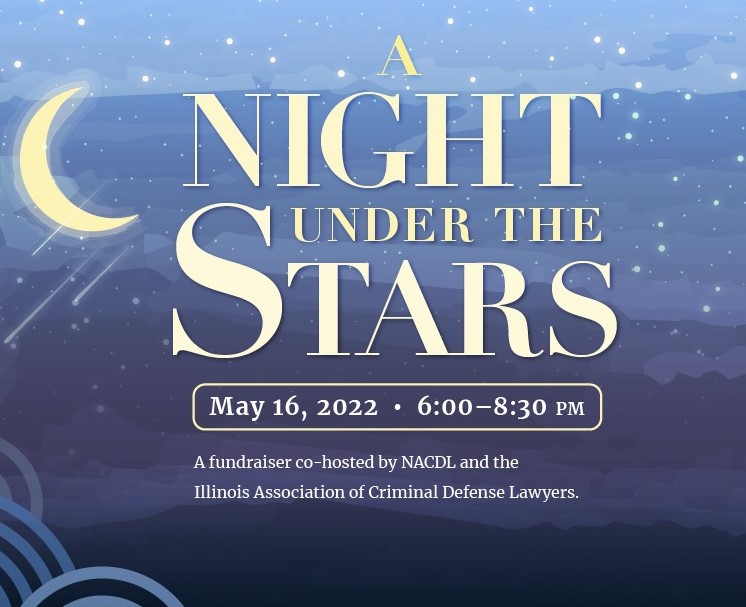 On Monday, May 16, 2022, NACDL and the Illinois Association of Criminal Defense Lawyers (IACDL) hosted "A Night Under the Stars", a benefit supporting the NACDL Foundation for Criminal Justice. It was an evening of entertainment, open bar, food and fun while we celebrated heroes of the Defense Bar including Steve Drizin, Thomas Sullivan and Jenner & Block.
Held at the beautiful home of Leonard Goodman in the Lincoln Park neighborhood, the evening included a special performance by the Exoneree Band. Visit nfcj.org/Chicago to learn more!
February 2022 - Stronger Together, a joint fundraiser in Austin, TX.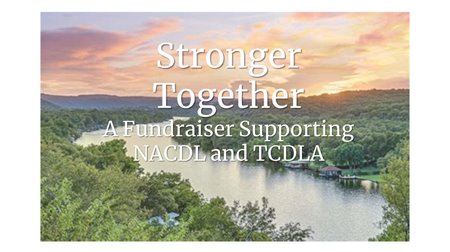 On February 25, 2022, The NACDL Foundation for Criminal Justice (NFCJ) and the Texas Criminal Defense Lawyers Educational Institute (TCDLEI) were pleased to join forces for an evening of fun, camaraderie, and entertainment while raising money for these two organizations. To learn more about this event, and enjoy pictures from the evening, visit nfcn.org/tcdla.
FALL 2021 - The NFCJ Gala returned LIVE and IN-PERSON with a special virtual twist.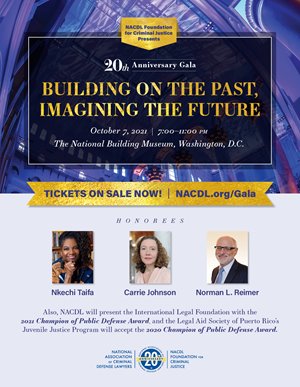 On October 7, 2021, the NACDL Foundation for Criminal Justice held its annual gala in Washington, DC. at the National Building Museum. The event was a huge success, and we are thankful to all who provided support. To learn more, visit here for more information.
FALL 2020 Something New - the NFCJ went VIRTUAL!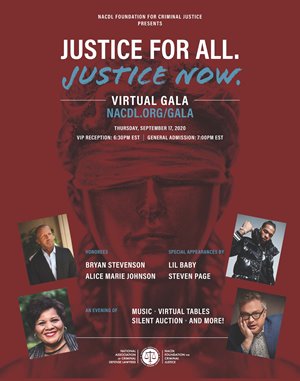 On September 17th, 2020, Constitution Day, the NACDL Foundation for Criminal Justice held a virtual gala. The Justice for All, Justice NOW gala raised funds to help NACDL address inequity within the criminal justice system.
To learn more about the evening, our sponsors, honorees, view video's from the event, and to see photos from the photo book, vising the gala page here.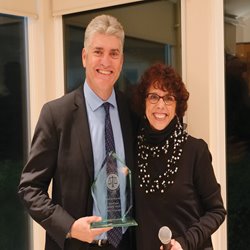 February 14, 2020 - San Diego, CA
In February of 2020, the NFCJ hosted a reception honoring Justin Brooks at the beach side home of Juanita Brooks and Michael Pancer. Learn more and view pictures from the event.
Explore keywords to find information