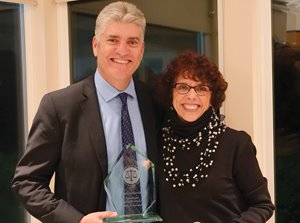 On February 14th, at the San Diego residence of Juanita Brooks and Michael Pancer, NACDL President Nina J. Ginsberg presented Justin Brooks, Director and Co-Founder of the California Innocence Project, with the Champion of Justice Award. This award is bestowed upon those individuals who — through legislative, legal, journalistic, or humanitarian pursuits — have staunchly preserved or defended the constitutional rights of individuals in the United States and have endeavored to ensure justice and due process for persons accused of crime.
Over 60 guests joined together to raise funds in support of the NFCJ and enjoyed an evening of comradery, great food, incredible beach side views and a lively program celebrating the work of Justin as well as the NFCJ.
Brooks has gained international recognition for his work in exonerating wrongfully convicted people and training judges, prosecutors, advocates, and defense attorneys. A clinical program with the California Western School of Law, under Brooks' leadership, CIP staff attorneys and students have reviewed over 2,000 cases and successfully worked to free more than 30 wrongfully convicted individuals. Among CIP's success stories is that of Brian Banks. Banks was wrongfully convicted of rape and, owing to Brooks and the CIP's work, was able to join the NFL as a player and eventually went on to work for the NFL.

In addition to being a tenured professor at California Western School of Law and the author of the only legal casebook devoted to the topic of wrongful convictions — Wrongful Convictions: Cases and Materials — Brooks has also worked extensively in Latin America. He is the Founder and Director of California Western's Latin American Institute for Law and Justice, an organization devoted to training law students and lawyers in Latin America and improving justice systems there. He is also the Founder and Director of RED Inocente, an organization devoted to starting and supporting innocence organizations throughout Latin America. Brooks has been recognized several times by the Los Angeles Daily Journal as one of the Top 100 Lawyers in California. And in 2010 and 2012, California Lawyer magazine recognized him with the "Lawyer of the Year" award.
This evening could not have been possible without the generosity of the sponsors listed below. For more information on this event, or any NFCJ event, please contact Clay Braswell: cbraswell@nacdl.org.
With Gratitude to Our Sponors
ADVOCATES OF CHANGE
Brian Bieber and Drew Findling
Juanita R. Brooks
Linda and Norman Reimer
BENEFACTORS
Andy Birrell
Jonathan Brayman, Todd Pugh, and Breen & Pugh, Attorneys at Law
Goldstein & Orr
Gene Iredale
Timothy McCarthy
Justin Rosas
Law Offices of Theodore Simon