Day 1 Day 2
Conference Agenda Speaker Biographies State Criminal Justice Network
SCJN Materials
---
Sign up for Mobile Advocacy Alerts!
​Text "NACDL" to 50457 and follow the link to register for text alerts about urgent legislative actions in your state.


Messaging & data rates may apply. Message frequency varies. Reply HELP for help and STOP to unsubscribe.
Terms & Conditions | Privacy Policy

---
Day 1: Thursday, August 16th
Setting the Stage: 50 Years of Mass Incarceration in America – Where Do We Go From Here?
---
Pretextual Policing: Keeping Minor Stops from Becoming Major Harms
---

In 2023, NACDL and advocates across the country are commemorating 50 years of America's unjust, discriminatory, and ineffective policy of mass incarceration. You can learn more at www.NACDL.org/50YearsMassIncarceration.
---
How to Meaningfully Advance Pretrial and Bail Reform, while Combatting Misinformation
---
---
Day 2: Thursday, August 17th
Reversing the Tide on Geofence and Keyword Warrants
Continue reading below
This is a sponsored ad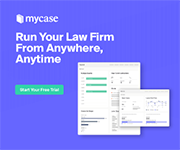 MyCase
Manage Your Law Firm All in One Place
---
Drug Decriminalization in Oregon
---
Effective Messaging to Advance Criminal Legal Reform