Conference Materials Speaker Biographies
Monday, August 17

1:00 - 2:00 pm EST

Watch the Recording

Opening & Welcome

Chris Adams, President, NACDL & Monica Reid, Director of Advocacy, NACDL

Lessons Learned: Combatting Misinformation Around Bail Reform - Case Study on the New York Bail Reform Pushback

Before bail reform, 60% of people in New York jails were being held pretrial. Reforms reduced jail numbers in 93% of counties, but misinformation about public safety fueled rollbacks. Hear lessons learned from advocates in New York, as well as receive tips and strategies around responding to critics and addressing concerns of court actors, legislators, and others.

Moderator: Cheryl Wills, Anchor, Spectrum News NY1

Panelists:

Khalil Cumberbatch, Senior Fellow, Council on Criminal Justice
Jon Reinish, Managing Director, SKDKnickerbocker
Kevin M. Stadelmaier, Chief Attorney, Legal Aid Bureau of Buffalo, Inc. and Legislative Committee Chair, NYSACDL

2:30 - 3:30 pm EST

When Robocop Becomes Reality: Confronting Technology in the Criminal Justice System

State and local law enforcement agencies are employing dystopian technology like face recognition, drone cameras and predictive policing programs to investigate, charge and prosecute people. These powerful tools are criminalizing communities, often with little transparency of how they were acquired and how they are used. Learn how to uncover and confront these technologies at the state and local level.

Moderator: Jumana Musa, Director, Fourth Amendment Center, NACDL

Panelists:

John Jones III, Director of Community & Political Engagement, Just Cities
Tawanna Petty, Director, Data Justice Program, Detroit Community Technology Project
Josmar Trujillo, Writer and Organizer

4:00 - 5:00 pm EST

Policing in America: Policing the Police

At least 85,000 law enforcement officers across the U.S. have been investigated or disciplined for misconduct over the past decade according to a USA Today investigation. Police disciplinary records are confidential in roughly 21 states, meaning people facing charges aren't able to learn about the background of involved officers. Learn why transparency is vital and current state legislative efforts to allow for increased transparency of police misconduct records.

Moderator: Norman Reimer, Executive Director, NACDL

Panelists:

Julie Ciccolini, Research Technologist, Digital Investigations Lab, Human Rights Watch
Rebecca Brown, Policy Director, Innocence Project

5:00 - 6:00 pm EST

Affiliate Leader Social Networking and Recognition Event

For more information, please contact Jessica Stepan at jstepan@nacdl.org.
Tuesday, August 18

1:00 - 2:00 pm EST

Presentation of Champion of State Criminal Justice Reform Award

Monica Reid, Director of Advocacy, NACDL & Michael Iacopino, Senior Partner, Brennan Lenehan and Chair of State Legislative Affairs Committee, NACDL

Recipient: Phil Cherner

Shifting the Narrative: Criminal Justice Reform & Storytelling

Tune into this dialogue on effective messaging around criminal justice reform from communications and media experts.

Ivan Dominguez, Senior Director of Public Affairs & Communications, NACDL
Radley Balko, Opinion Journalist, The Washington Post
Carrie Johnson, Justice Correspondent, NPR

2:30 - 3:30 pm EST

Marsy's Law

Marsy's Law, a victims' rights constitutional amendment, would bestow upon crime victims a vast array of often vague, difficult and costly to administer rights, including extensive notification, involvement, privacy, and restitution provisions, and enshrine them in state constitutions. This amendment has far-reaching consequences for state criminal justice systems across the country. Hear from various stakeholders and learn how state advocates can help stave off this legislation.

Moderator: Monica L. Reid, Director of Advocacy, NACDL

Panelists:

Jerome F. Buting, Partner, Buting, Williams & Stilling, S.C.
Laura Hessburg, Public Policy Director, Iowa Coalition Against Domestic Violence
Jackson J. Lofgren, Suhr & Lofgren PLLC, North Dakota Association of Criminal Defense Lawyers
Senator John Schickel, Kentucky State Senate

4:00 - 5:00 pm EST

Data Driven Policies: Criminal Justice Data Collection

The absence of uniform reporting and standardization requirements for criminal justice data makes meaningful transparency into court, jail, prison, and law enforcement practices nearly impossible. This panel will highlight legislative efforts to collect comprehensive criminal justice data for reform, including recent legislative efforts in Colorado, Connecticut, and Virginia, pertaining to pretrial, prosecutorial and policing data collection.

Moderator: Mikaela Rabinowitz, Director of National Engagement & Field Operations, Measures for Justice

Panelists:

Richard Colangelo, Jr., Chief States Attorney of Connecticut
Bryan Kennedy, Policy Director, Justice Forward Virginia
Rebecca Wallace, Senior Staff Attorney & Senior Counsel, ACLU of Colorado

5:15 pm EST

Q&A and Music Performance by Zoe Boekbinder of the Prison Music Project

For more information, please contact Monica Reid at mreid@nacdl.org.
Wednesday, August 19

1:00 - 2:00 pm EST

Shifting the Narrative: Combatting Life Imprisonment & Other Extreme Sentences

This panel will focus on the need to go beyond criminal justice reforms just impacting low-level, nonviolent offenses and explore the current narratives around violent offenses and the need to tackle life and other extreme sentences.

Moderator: Kyle O'Dowd, Associate Executive Director for Policy, NACDL

Panelists:

Marshan Allen, Research & Policy Fellow, Fair & Just Prosecution
Crystal Carpenter, Community Assessment & Engagement Manager, Campaign for the Fair Sentencing of Youth
Amy Fettig, Executive Director, Sentencing Project

2:30 - 3:30 pm EST

First Steps for State Sentencing Reform

Ending mass incarceration will require changing sentencing policies and practices. But where are we now and what impact will COVID-19 have? Learn about varies state sentencing reform efforts, as well as release options during the COVID-19 pandemic and what states can do moving forward as a result of the pandemic.

Moderator: Angelyn Frazer-Giles, Executive Director, National Network for Justice

Panelists:

Lauren Krisai, Senior Policy Analyst, Justice Action Network
Greg Newburn, Florida Director, FAMM
David A. Singleton, Executive Director, Ohio Justice & Policy Center

4:00 - 5:00 pm EST

Parole and Probation Reform

Over half of the nearly 7 million people controlled by the U.S. criminal legal system are on probation and parole. Learn more about community supervision's role in mass incarceration, as well as state legislative efforts to reform probation and parole around the country.

Moderator: Quintin Williams, Campaign Manager for Fully Free: The Campaign to End Permanent Punishments, Heartland Alliance for Human Needs and Human Rights

Panelists:

Jessica Jackson Sloan, Chief Advocacy Officer, Reform Alliance
Stephen Munkelt, Executive Director, California Attorneys for Criminal Justice
LaTonya Tate, Executive Director and Founder, Alabama Justice Initiative
This is a sponsored ad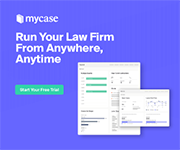 MyCase
Manage Your Law Firm All in One Place