There is an ongoing water crisis in Jackson, where decades of disinvestment in public infrastructure, including drinking water infrastructure, resulted in the failure of a water treatment plant several weeks ago. The Mississippi Rapid Response Coalition is responding to the crisis on the ground and collecting donations which will be used to provide clean water to residents. The Mississippi Raid Response Coalition is led by the People's Advocacy Institute (PAI), an organization working to end mass incarceration and reimagine public safety, and a community partner of the Mississippi Office of State Public Defender, an NACDL state affiliate.
The struggle for justice is inextricably tied to the fight for environmental justice. The communities that are most vulnerable to environmental hazards like contaminated water and air pollution are often the same ones that are most impacted by mass incarceration and over-policing.
Mississippi has the highest rate of incarceration per capita than any other state, or any nation, in the world. The impacts of incarceration in Mississippi, like in other states, are racially disparate. Eighty-four percent of incarcerated individuals in Hinds County, which contains the city of Jackson, are Black, while the county's total population is 74 percent Black.
Jackson residents are also heavily policed. The city of Jackson has more police officers per population than 89 percent of police departments in the United States, and the Jackson Police Department arrests individuals for low-level offenses at a rate higher than nearly 90 percent of departments.
For questions or to donate items directly to the Mississippi Response Coalition, contact rapidresponse@peoplesadvocacyinstitute.com.
This is a sponsored ad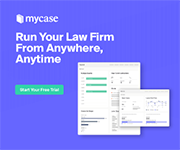 MyCase
Manage Your Law Firm All in One Place