Sample Motions & Briefs
Notice of motion to supress identification testimony or alternatively for wade and reliability hearings, demand for discovery, & omnibus motion
---
Resources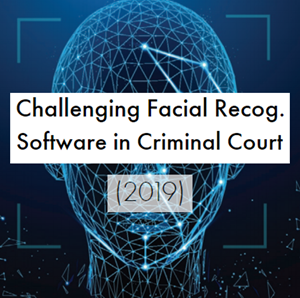 ---
Video Trainings
Recognizing and Challenging Facial Recognition Technology in Criminal Cases
Clare Garvie, Associate, Center on Privacy & Technology at Georgetown University Law Center; Kaitlin Jackson, Attorney, Bronx Defenders; Joshua Kroll, Postdoctoral Research Scholar, UC Berkeley School of Information
Flash Talk: Biometrics Beyond Facial Recognition
Jennifer Lynch, Surveillance Litigation Director, Electronic Frontier Foundation
Continue reading below
Coronavirus Resources
NACDL to Focus on Service and Support for Members, Clients, and Community Throughout Virus Emergency
Learn More
Recognizing and Challenging Facial Recognition Technology in Criminal Cases
Clare Garvie, Associate, Center on Privacy & Technology at Georgetown University Law Center; Kaitlin Jackson, Attorney, Bronx Defenders; Joshua Kroll, Postdoctoral Research Scholar, UC Berkeley School of Information
---
Florida Face Analysis Comparison & Examination System (FACES)
---
Other Resources
Willie Allen Lynch v. State of Florida (2019)
Amici Curiae Brief of American Civil Liberties Union, American Civil Liberties Union Of Florida, Electronic Frontier Foundation, Georgetown Law's Center On Privacy & Technology, and Innocence Project in Support Of Petitioner

Cities Asked Ring to Share 'Registry Lists' of Customers Who Bought Surveillance Cameras (2019)
Caroline Haskins

"Is This The Guy?" (2019)
Mike Hayes

America Under Watch: Face Surveillance in the United States (2019)
Clare Garvie, Laura Moy

Not Ready for Takeoff: Face Scans at Airport Departure Gates (2017)
Harrison Rudolph, Laura Moy, Alvaro Bedoya

The Perpetual Line-Up: Unregulated Police Face Recognition in America (2016)
Clare Garvie, Alvaro Bedoya, Jonathan Frankle, et al.

Face Recognition Performance: Role of Demographic Information (2012)
Brendan F. Klare, Member, IEEE, Mark J. Burge, Senior Member, IEEE, Joshua C. Klontz, Richard W. Vorder Bruegge, and Anil K. Jain, Fellow, IEEE.

Accessorize to a Crime: Real and Stealthy Attacks on State-of-the-Art Face Recognition
Mahmood Sharif, Sruti Bhaguvatula, Michael Reiter, and Lujo Bauer.
---