Conference Materials Speaker Biographies
State Criminal Justice Network State Advocacy Resources
Welcome to this year's Conference Webpage! Here you will find the agenda, materials assembled for each panel, speaker biographies, and other state legislative advocacy resources available to you from NACDL. As NACDL endeavors to be a bar organization that not only leads in criminal legal reform but also in the push to 'Go Green,' we are bringing this year's conference materials to you electronically (learn more about NACDL's Justice is Green Initiative).
For the 21st Annual State Criminal Justice Network Conference, NACDL assembled some of the nation's leading experts, including individuals directly harmed by the criminal legal system, to discuss a number of pertinent state issues, lifting up the importance of examining these issues through a public health and community safety framework and the reform proposals that embody that framework. It is our hope this year's conference provided you with additional strategies to help you advance criminal legal reform in your state.
Thursday, August 11, 2022

8:50–10:25am

Setting the Stage: A Discussion on the Current State of Criminal Justice Reform  

Movements to reform flaws in the criminal legal system have resulted in a growing number of states passing vital, bipartisan measures related to pretrial and bail, criminal discovery, policing, sentencing, and other reforms to help curb mass incarceration. However, opponents of reform have used the 2020 uptick in homicides to stoke fear around recent policy changes and push regressive proposals that would walk back a move toward greater justice, equality, and authentic safety in communities across the country. Join us for this opening panel discussion, as we set the stage for the 21st Annual State Criminal Justice Network Conference, discussing the current climate, and sharing strategies on how to combat the narrative that blames the rise of certain crimes on recent criminal justice reforms.

Moderator: Ames Grawert, Senior Counsel, Brennan Center for Justice at NYU School of Law

Panelists:  

Insha Rahman, Vice President, Advocacy & Partnerships, Vera Institute of Justice

Louis L. Reed, Senior Advisor, REFORM Alliance

Rabiah Burks, Vice President, Communications and Team Building, National Legal Aid & Defender Association

10:50–11:50am

Who Keeps Us Safe? Advancing Police Reform Amidst Calls for More Police

Over the past few years, amid continued police violence and the killing of unarmed Black people, we have seen renewed calls for racial justice and systemic police reform, with many states having considered legislation to address some aspect of policing, including issues around accountability and oversight, limiting the use of neck restraints and no-knock warrants, instituting use of force standards, requiring a duty to intervene, mandating data collection around police interactions, requiring increased use of police body cameras and more. However, as we find ourselves in a climate where calls for more police are growing louder and decision makers are continuing to dispatch more police in the name of increasing safety and reducing crime, where does that leave earlier efforts at police reform? How do we continue to hold police accountable for misconduct and incidents of police violence?

Moderator: Julie Ciccolini, Director of Law Enforcement Accountability, NACDL  

Panelists: 

Roxanne (Rox) Anderson, REP (Relationships Evolving Possibilities)

Brian Cox, Deputy Public Defender - San Francisco Public Defender 's Office

Carlton Mayers, II, Founder, Owner, and Head Consultant of Mayers Strategic Solutions, LLC

11:55am–12:55pm

Preventing Violence by Investing in Communities

Research has consistently demonstrated that substantial, sustained investment in communities improves public safety. A New York Times Article cites a recent survey of criminal justice experts in which 85 percent stated that increasing spending on social services, such as housing, health and education would improve public safety. The article further highlights how a randomized trial of street lighting in New York City reduced outdoor, nighttime index crimes by 36 percent and how cleaning up vacant lots in Philadelphia corresponded to a 29 percent reduction in gun violence. Investment in the work of individuals and groups already building safety in their neighborhoods through community-based organizations and local violence prevention programs is also critical. This panel will explore how investing in resources which allow individuals to grow and thrive in their communities is a more effective public safety strategy than continuing to expand the massive police and surveillance apparatus in communities most impacted by violence.

Moderator: Amber Akemi Piatt, Health Instead of Punishment Program Director, Human Impact Partners

Panelists: 

Andrea James, Founder and Executive Director, The National Council for Incarcerated and Formerly Incarcerated Women and Girls

Nancy Parker, Managing Attorney for Movement Lawyering, Detroit Justice Center

Thea Sebastian, Director of Policy, Civil Rights Corps

2:00–3:00pm

Longer Sentences Won't Create More Safety: Confronting Extreme Sentences

Harsh, inflexible sentences do not deter crime or make our communities safer. Such sentencing laws disproportionately affect communities of color and have contributed greatly to the explosive increase in the U.S. prison population over the past three decades. Advocates have called for and states have been making strides to tackle the issue of extreme sentences, elevating proposals such as second look, compassionate release and other reforms that seek to provide a second chance for individuals who are currently incarcerated. However, as we find ourselves dealing with a narrative that seeks to blame the 2020 uptick in homicides on criminal justice reform, how do we continue to make advancements to fight extreme sentences? This panel will focus on confronting extreme sentences as a reflexive policy response to violence and harm.

Moderator: David Singleton, Executive Director, Ohio Justice & Policy Center

Panelists: 

Alexandra Harrington, Associate Professor of Law; Director, Criminal Justice Advocacy Clinic, University at Buffalo School of Law

L.B. Eisen, Director, Justice Program, Brennan Center for Justice at NYU School of Law

Jose Hamza Saldana, Director, Release Aging People in Prison (RAPP)

3:05–4:05pm

Innocent Until Proven Guilty: How Pretrial Decisions Can Impede Justice

Despite assurances that, "[I]n our society liberty is the norm, and detention prior to trial . . . the carefully limited exception," over 75 percent of those detained in local jails have not been convicted of a crime.  Two-thirds of state pretrial populations are held for non-violent offenses, and the racial disparities which plague the criminal legal system are especially pronounced in pretrial decisions. With pretrial decisions having substantial, long-term case impacts, the uses and abuses of pretrial detention erode the presumption of innocence and destroy any sense of justice. The onset of the COVID-19 pandemic highlighted the deadly consequences of widespread pretrial incarceration, prompting a renewed call and sense of urgency for releasing individuals detained pretrial. Join this panel to hear from advocates from around the country who are working to advance pretrial reform.

Moderator: Jasmine Heiss, Project Director, In Our Backyards, Vera Institute of Justice

Panelists: 

Kanya Bennett, Managing Director for Government Affairs, The Leadership Conference on Civil and Human Rights

Elizer Darris, Co-Executive Director, Minnesota Freedom Fund

Sharlyn Grace, Senior Policy Advisor, Law Office of the Cook County Public Defender

4:10–5:10pm

Diversion: Reducing Collateral Consequences and Recidivism with Alternative Resolutions

There is growing recognition of the need to limit and reduce the potential for individuals to enter the criminal legal system. One avenue for this is through pretrial diversion, as an alternative resolution to a criminal case where the individual can avoid a criminal conviction, and as a result, avoid the worst possible criminal penalties associated with a charge and the collateral consequences that follow a conviction. Research overwhelmingly shows that individuals who are diverted away from the criminal legal system are less likely to reoffend. According to a recent study of Texas' deferred adjudication program, reconvictions decreased by about 75 percent. Data from the study also suggested an increased likelihood of employment for participating individuals, demonstrating that diversion is demonstrably more effective at reducing recidivism rates, and as a result, protecting public safety. This panel will highlight similar research demonstrating the effectiveness of pretrial diversion while examining programs around the country.

Moderator: Melissa Labriola, Senior Social Behavioral Scientist, RAND Corporation

Panelists: 

Raul Ayala, Collaborative Courts Supervising Attorney, Deputy Federal Public Defender, Office of the Federal Public Defender, Central District of California, Los Angeles

J.Z. Bennett, Assistant Professor, University of Cincinnati, School of Criminal Justice
Friday, August 12, 2022

8:45am

Presentation of Champion of State Criminal Justice Reform Award 

Monica L. Reid, Senior Director of Advocacy, NACDL & Michael Iacopino, Senior Partner, Brennan Lenehan and Chair of State Legislative Affairs Committee, NACDL 

9:10–10:10am

Exploring the Evidence: The Truth About Drug Overdose Homicide Laws

As opioid-related deaths continue to devastate communities across the country, there is a growing number of law enforcement agencies and prosecutors who are choosing to treat these accidental overdose deaths as homicides. According to a 2017 report by Drug Policy Alliance, individuals charged with or prosecuted for drug-induced homicide increased by over 300 percent in six years, from 363 reported prosecutions in 2011 to 1,178 in 2016. According to the Health in Justice Action Lab, by 2019, there were 26 new & expanded laws that recast overdose as homicide, murder, or manslaughter. No systematic empirical evidence exists that these laws reduce the distribution of illegal drugs. This panel will explore the ineffectiveness and detrimental harms of drug-induced homicide laws, as well as public health approaches to addressing the overdose crisis and how to advocate for these reforms.

Moderator: Jeremiah Goulka, Senior Fellow and Director of Justice Policy, Health in Justice Action Lab at Northeastern University School of Law

Panelists: 

Morgan Godvin, Narrative Justice Fellow, Health in Justice Action Lab at Northeastern University School of Law, and Engagement Editor of American Prison Newspapers, JSTOR Daily

Sam Rivera, Executive Director, OnPoint NYC

Taleed El-Sabawi, Assistant Professor of Law, Florida International University College of Law; Research Scholar, Addiction and Public Policy Initiative at the O'Neill Institute for National and Global Health, Georgetown Law

10:35–11:35am

Politics and Punishment: What's Wrong with How We Deal with Sex Offenses

Restrictions and collateral consequences on individuals convicted of a sex offense are too often the result of knee-jerk politics rather than careful consideration of the efficacy, appropriate scope and potential negative consequences. This includes sex offense registries, residency restrictions and other collateral consequences that often make communities less safe and impede the support needed for successful reentry. This panel will discuss the ineffectiveness of these registries in achieving any legitimate public safety goal and explore the unintended adverse consequences that they often produce.

Moderator: Emily Horowitz, Professor & Chair, Department of Sociology & Criminal Justice, St. Francis College

Panelists:

Lisa Kessler-Peters, MS ABA, Author, Advocate, Pastor

Danielle Bailey, Associate Professor of Criminal Justice, The University of Texas at Tyler

Christopher Sparks, Advocate and Registered Citizen

11:40am–12:40pm

Rehabilitation Through Reconciliation: The Role of Restorative Justice in Transforming the Criminal Legal System

Restorative Justice is defined as a criminal justice process which focuses on rehabilitation through reconciliation with victims and the community at large, collectively deciding how to deal with the aftermath of an offense. Learn about the restorative justice process, research, and programs from around the country.

Moderator: Avery Arrington, Assistant Director, Training Division, National Center on Restorative Justice

Panelists: 

Abigail Crocker, Research Associate Professor, University of Vermont

Cymone Fuller, Director, Restorative Justice Project, Impact Justice

1:45–2:45pm

Kids in the Criminal Legal System: Transforming the Youth Justice Landscape

Research has shown that justice-involved youth experience high rates of adverse childhood experiences. Advocates have continued to call for trauma-informed reforms, including eliminating life and de facto life without parole sentences for children, allowing judges to depart from mandatory minimum sentences, establishing trauma-informed guidelines for sentencing youth in adult court, establishing a minimum age for juvenile court jurisdiction and limiting the jurisdiction of criminal courts over children, prohibiting placement of children in adult correctional facilities, and granting access to legal counsel at the point of arrest, to name a few. Hear from youth justice advocates on the impacts of adverse childhood experiences and how to effectively advocate for needed policy changes.

Moderator: Emily Virgin, Policy Counsel, Human Rights for Kids

 Panelists: 

Eric Alexander, Senior Advocate, The Campaign for the Fair Sentencing of Youth

David Garlock, Faith, Community & Legislative Advocate

Tracey Tucker, Co-Executive Director, National Juvenile Justice Network
Sign up for Mobile Advocacy Alerts!
​Text "NACDL" to 50457 and follow the link to register for text alerts about urgent legislative actions in your state.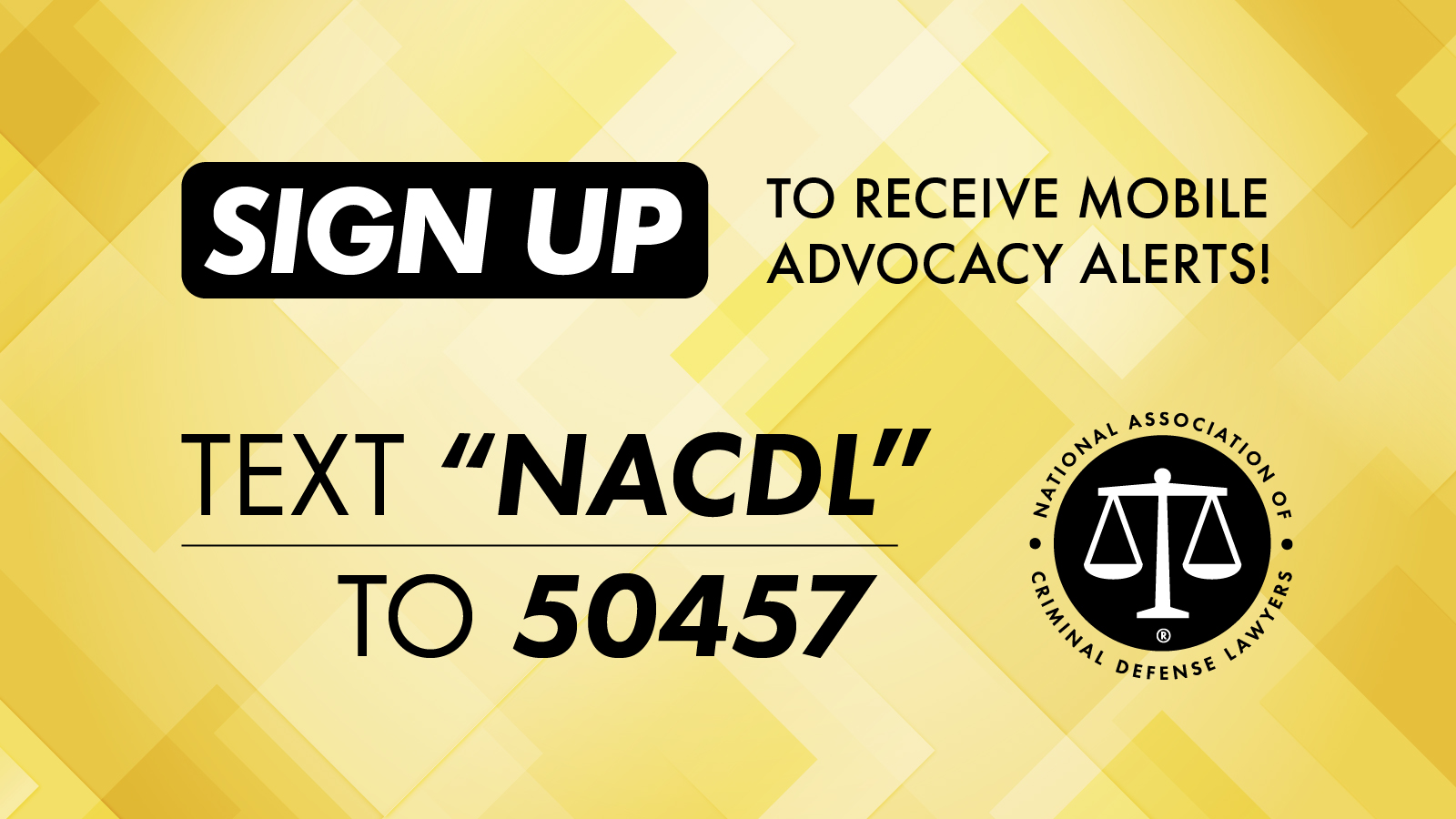 Messaging & data rates may apply. Message frequency varies. Reply HELP for help and STOP to unsubscribe. Terms & Conditions | Privacy Policy
This is a sponsored ad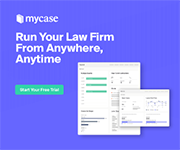 MyCase
Manage Your Law Firm All in One Place