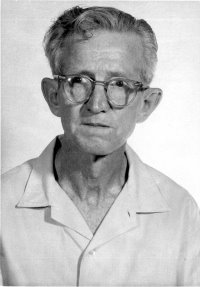 Few names in public defense are as iconic as that of Clarence Earl Gideon. In 1961, with an 8th grade education and a history of being in and out of jail, Gideon stood trial for burglary of a Florida pool hall. When the court called the case and asked if he was ready for trial Gideon replied "I am not ready, your Honor." When the judge asked why, he explained "I have no counsel."
So was the start of one of the most pivotal cases in the American criminal justice system. A man with an 8th grade education was being forced to stand alone against the State and the trained, skilled lawyer who represented it. Gideon knew he could not adequately defend himself without an equally skilled advocate by his side.
He proved correct, for he would be convicted in that first trial, but just a few months after his monumental Supreme Court victory, Gideon returned to that same Florida courtroom to be retried for the burglary. With a lawyer to assist him, on August 5, 1963, he was found not guilty.
Transcript of Gideon's Original Trial Transcript of Gideon's Re-trial
Supreme Court Oral Arguments
---
"The right of one charged with crime to counsel may not be deemed fundamental and essential to a fair trial in some countries but it is in ours."
---
Gideon Lawyers
While Gideon's lawyer, future Supreme Court Justice Abe Fortas, is well known, often less remembered is the attorney who represented the Respondent, the State of Florida. Bruce Jacob was a young Florida Assistant Attorney General. While he argued against the application of the 6th Amendment's right to counsel to the states, when the Florida legislature enacted a law allowing private attorneys to act as unpaid, volunteer public defenders, Jacob signed his name to that list and began a long career in public defense. One that included, in 2013, being honored with NACDL's Champion of Public Defense Award.

Learn about Bruce Jacobs' legacy in: Bruce Jacob: A Leading Voice in Public Defense by Ellen Podgor
---
Gideon Today
Gideon at 50 Reports from NACDL
Reflecting upon the state of public defense 50 years after the Gideon decision, NACDL produced a series of reports designed to prove a national overview of public defense systems across the country.



Part 1: Rationing Justice
Part 2: Redefining Indigence
Part 3: Representation in All Criminal Prosecutions
---
The Champion Celebrates Gideon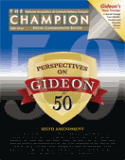 In 2012 NACDL published "Perspectives on Gideon at 50," a compendium of articles on the role Gideon has played and will continue to play in fulfilling the 6th Amendment. Authors include: Jon Rapping, Eric Holder, and Andrea Lyon. In 2012-13, The Champion also celebrated the work done every day by public defenders in its series, Gideon's Champions. Day in and day out these attorney-warriors serve as a shield against unjust accusations and a sword against oppression.