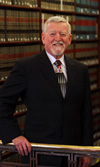 Washington, DC (July 29, 2013) – Jerry J. Cox, of Mount Vernon, Ky., was sworn in on Saturday, July 27, as President of the National Association of Criminal Defense Lawyers (NACDL) at its 56th Annual Meeting in San Francisco, California. Mr. Cox has previously served the Association as its President-Elect, First- and Second Vice-President, Treasurer, Secretary, and Parliamentarian, as well as on the Association's Board of Directors.
Mr. Cox is a sole practitioner based in Mount Vernon, Ky. where he has been practicing criminal defense law for over 40 years. Throughout his career, Mr. Cox has published and lectured extensively on criminal law issues. He is deeply committed to the defense bar and has served on the faculty of the Kentucky Department of Public Advocacy's (DPA) Trial Practice Institute for many years. In 2002, the Kentucky DPA recognized Mr. Cox's commitment to criminal defense by awarding him the Nelson Mandela Lifetime Achievement Award.
Mr. Cox is also a Past President of the Kentucky Association of Criminal Defense Lawyers and a member of the American Bar Association (ABA) and Kentucky Bar Association (KBA). He has served on the KBA's Unauthorized Practice of Law Committee, Criminal Rules Committee, Legislative Committee, Prescription Drug Abuse Task Force and as Chair of the KBA's Criminal Law Section. In 2004, he received the President's Special Service Award from the Kentucky Bar Association. He also served on the Kentucky Criminal Justice Council's Drug Strategy Committee, is chair of the Public Advocacy Commission, and served as president of the Kentucky Bar Foundation. Mr. Cox is certified as a Criminal Specialist by the National Board of Trial Advocacy (NBTA) and, in 2004, he served on the NBTA Board of Examiners.
Mr. Cox is a Life Member of NACDL and in numerous recent years, including 2009, Mr. Cox received NACDL's President's Commendation for outstanding service to the goals and objectives of the criminal defense bar and for outstanding service in fighting for the rights of all persons. Mr. Cox has been AV rated by Martindale-Hubbell since 1985 and was recognized in the March 2010 issue of Louisville Magazine as being selected by his peers as a Top Lawyer. Mr. Cox is a 1968 graduate of the University of Kentucky School Of Law and a 1965 graduate of Berea College.
Speaking at the annual meeting of the NACDL Membership and Board of Directors in San Francisco, Mr. Cox outlined several goals for the Association and defense bar during his term, including:
"We must expand our advocacy and our commitment to elevate the advocacy of the defense bar on behalf of our returning veterans."
"I am determined to continue NACDL's efforts to address disparity in the criminal justice system. I am proud that last year NACDL, with support from the Foundation for Criminal Justice, co-sponsored a major symposium on disparity. It is great timing that the publication of that report coincides with this meeting. That report provides a solid platform for new project and initiatives."
"We must work to implement NACDL's policy that no person should ever stand before a court when liberty is at stake or when a conviction may be entered without the assistance of a fully qualified, adequately resourced lawyer."
In addition to the critical issues of fairness and justice for U.S. military veterans, racial disparity in the American criminal justice system, and the funding and independence of the constitutionally-mandated defense function, newly-installed NACDL President Jerry J. Cox spoke to the need to continue to work to address the ongoing problems of draconian sentencing, including for juveniles; pre-trial justice issues; the innumerable collateral consequences of a criminal conviction and the importance of post-conviction restoration of rights; the disproportionate leverage of prosecutors, its causes and the resulting 'trial penalty' that has led to a criminal justice system overwhelmingly administered via the 'plea bargain'; and the critical importance of support for the Foundation of Criminal Justice.
Contact Information:
Jerry J. Cox
P.O. Box 1350
Mount Vernon, Kentucky 40456-1350
P: 606-256-5111
jcox@kih.net
Photo credit: Bud Kraft, Copyright NACDL 2013.
Contacts
Please contact Ivan J. Dominguez, Director of Public Affairs & Communications, (202) 465-7662 or idominguez@nacdl.org for more information.
The National Association of Criminal Defense Lawyers is the preeminent organization advancing the mission of the criminal defense bar to ensure justice and due process for persons accused of crime or wrongdoing. A professional bar association founded in 1958, NACDL's many thousands of direct members in 28 countries – and 90 state, provincial and local affiliate organizations totaling up to 40,000 attorneys – include private criminal defense lawyers, public defenders, military defense counsel, law professors and judges committed to preserving fairness and promoting a rational and humane criminal legal system.