Washington, DC (June 26, 2014) – National Association of Criminal Defense Lawyers (NACDL) President Jerry J. Cox received the Kentucky Bar Association's (KBA) Distinguished Lawyer of the Year Award during the Association's recent Annual Banquet at the Marriott at RiverCenter in Covington. Cox received the award as a part of the KBA's Annual Convention which drew 1,850 lawyers to the Northern Kentucky Convention Center June 18-20.
The KBA's Distinguished Lawyer of the Year Award is presented each year to a lawyer who has distinguished himself or herself through a contribution of outstanding service to the legal profession.
"The selection process places special emphasis upon community, civic and charitable service that brings honor to the profession," said KBA President Thomas L. Rouse.
A sole practitioner, Cox has practiced criminal defense law for more than 40 years and has published and lectured extensively on criminal law issues. He is a 1965 graduate of Berea College and a 1968 graduate of the University of Kentucky School of Law.
Cox has served on the faculty of the Kentucky Department of Public Advocacy's (DPA) Trial Practice Institute for many years and received the Nelson Mandela Lifetime Achievement Award from the Kentucky DPA in 2002 in recognition of his commitment to criminal defense. He is also chair of the Kentucky Public Advocacy Commission, which is the independent governing body for Kentucky's statewide indigent defense system.
Admitted to practice in the U.S. District Court for the Eastern and Western Districts of Kentucky and the U.S. Court of Appeals for the Sixth Circuit, Cox has been AV rated by Martindale-Hubbell since 1985 and was recognized in the March 2010 issue of Louisville Magazine as being selected by his peers as a Top Lawyer.
Cox served on the KBA's Unauthorized Practice of Law Committee from 1993-2010, and was chair of the committee from 2007-10. He also served as chair of Criminal Law Section in 1994 and has also served on the KBA Criminal Rules Committee, the Legislative Committee and the Prescription Drug Task Force. Cox served as a board member of the Kentucky Bar Foundation from 1995-2003, and was the bar foundation's treasurer in 1999 and its president in 2002.
In July 2013, Cox was sworn in as president at the NACDL's 56th annual meeting in San Francisco. He has previously served the Association as its president-elect, first and second vice-president, treasurer, secretary, and parliamentarian. Additionally, he has served on the Association's board of directors.
Continue reading below
Coronavirus Resources
NACDL to Focus on Service and Support for Members, Clients, and Community Throughout Virus Emergency
Learn More
Cox is a life member of NACDL and, in numerous recent years, including 2009, has received the NACDL's President's Commendation for outstanding service to the goals and objectives of the criminal defense bar and for outstanding service in fighting for the rights of all persons.
The KBA is an independent agency of the Kentucky Supreme Court with more than 17,800 members. All lawyers admitted to practice in Kentucky must be members of the KBA. The KBA Board of Governors assists the Court in regulating the practice of law in Kentucky, including lawyer discipline, continuing legal education and lawyer advertising. Additionally, it works to promote the efficiency and improvement of the judicial system in accordance with Supreme Court Rules.
Photo: Mount Vernon lawyer Jerry Cox receives the Kentucky Bar Association's (KBA) Distinguished Lawyer Award from KBA President Thomas L. Rouse of Erlanger. Cox received the award during the KBA's Annual Banquet held June 19 at the Marriott RiverCenter in Covington.
Photo Credit: Tim Webb Photography
This is a sponsored ad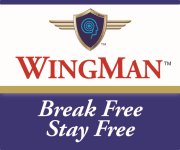 WingMan Technology
Generating Qualified Leads for NACDL Attorneys
Contacts
For more information on the Kentucky Bar Association, visit www.kybar.org or call (502) 564-3795.
The National Association of Criminal Defense Lawyers is the preeminent organization advancing the mission of the criminal defense bar to ensure justice and due process for persons accused of crime or wrongdoing. A professional bar association founded in 1958, NACDL's many thousands of direct members in 28 countries – and 90 state, provincial and local affiliate organizations totaling up to 40,000 attorneys – include private criminal defense lawyers, public defenders, military defense counsel, law professors and judges committed to preserving fairness and promoting a rational and humane criminal justice system.