Washington, DC (April 25, 2018) — At the Foundation for Criminal Justice Gala celebrating the National Association of Criminal Defense Lawyers (NACDL) at 60 Years on April 20, 2018, in New York City, NACDL presented its Executive Director's Award to Quintin Chatman. Chatman serves as Editor of The Champion magazine, NACDL's flagship magazine published ten times per year.
"It was my privilege to confer the Executive Director's Award upon Quintin Chatman, editor of The Champion," said NACDL Executive Director Norman L. Reimer. "By any measure, The Champion is NACDL's crown jewel. And for more than a dozen years, Quintin Chatman has been an incredible custodian of that jewel. Quintin brings to his work qualities that are universally admired by his colleagues: patience, talent, honor, creativity, and above all, at all times, quintessential professionalism. The Champion and its renown are a testament to Quintin Chatman's dedication and talent."
Under Chatman's stewardship, The Champion has garnered high praise through the profession and beyond. This widely acclaimed publication offers timely, informative articles written for and by criminal defense lawyers. In 2013, The Champion was the winner of min's 2013 Editorial & Design Award in the category of Print/Online Coverage of Single Topic. The Champion also won min's 2012 Editorial & Design Award in the category of Editorial Print/Online Coverage of Single Topic.
Prior to joining NACDL, Chatman was employed at Maryland legal publisher Pike & Fischer (P & F). While at P & F, he helped launch their Electronic Discovery newsletter, served as Managing Editor of the company's Administrative Law case reporting service, and later served as Managing Editor of Federal Rules Service, which is a Thomson West publication edited by P & E. He has also previously served as Staff Attorney at South Carolina Legal Services Association and as the Executive Editor of the nation's first magazine focused on showcasing the African American home, Homes of Color Magazine.
Chatman received his Law, Master's, and Bachelor's Degrees from the University of South Carolina.
Past recipients of the Executive Director's Award include Tom Chambers and Cathy Zlomek.
The 2018 Foundation for Criminal Justice Gala Celebrating NACDL at 60 was sponsored in part by Diamond Jubilee Champion Paul, Weiss; and Champions of Liberty Greenberg Traurig, Kramer Levin, Skadden, and Winston & Strawn.
Coronavirus Resources
NACDL to Focus on Service and Support for Members, Clients, and Community Throughout Virus Emergency
Learn More
This is a sponsored ad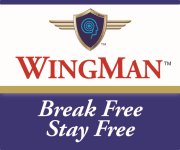 WingMan Technology
Generating Qualified Leads for NACDL Attorneys
Contacts
Alexandra Funk, NACDL Public Affairs & Communications Assistant, (202) 465-7647 or afunk@nacdl.org
The National Association of Criminal Defense Lawyers is the preeminent organization advancing the mission of the criminal defense bar to ensure justice and due process for persons accused of crime or wrongdoing. A professional bar association founded in 1958, NACDL's many thousands of direct members in 28 countries – and 90 state, provincial and local affiliate organizations totaling up to 40,000 attorneys – include private criminal defense lawyers, public defenders, military defense counsel, law professors and judges committed to preserving fairness and promoting a rational and humane criminal justice system.