Brief filed: 04/07/2014
Documents
In Re: Proceedings in which the Commonwealth of Pennsylvania Seeks to Compel the Defender Association of Philadelphia to Produce Testimony and Documents and to Bar it from Continuing to Represent Def
3rd Circuit Court of Appeals; Case No. 13-3817
Prior Decision
On appeal from E.D. Pa. No. 2:13-cv-1871
Argument(s)
Vigorous state post-conviction assistance is critical to the FCDO's mission of securing death-sentenced inmates federal habeas relief. The systemic failure of Pennsylvania to provide effective, properly resourced, capital defense counsel militates in favor of continuous representation by FCDO attorneys.
This is a sponsored ad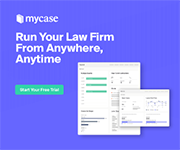 MyCase
Manage Your Law Firm All in One Place
Author(s)
Lawrence S. Lustberg and Benjamin Yaster, Gibbons P.C., Newark, NJ; Jules Epstein, Kairys, Rudovsky, Messing & Feinberg, Philadelphia, PA.