Brief filed: 06/03/2014
Documents
Warger v. Shauers
United States Supreme Court; Case No. 13-517
Prior Decision
Decision below 721 F.3d 606 (8th Cir. 2013).
Argument(s)
Racial, ethnic and religious bias among jurors remains a serious problem in criminal cases. The canon of constitutional avoidance requires admitting evidence under Rule 606(b) that tends to prove a litigant did not receive a fair trial. Rule 606(b) implicates core constitutional concerns in the criminal context. This Court should consider criminal-specific constitutional concerns in construing Rule 606(b).
This is a sponsored ad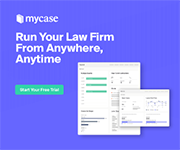 MyCase
Manage Your Law Firm All in One Place
Author(s)
Jeffrey T. Green, Washington, DC; Lisa Blatt and Bob Wood, Arnold & Porter LLP, Washington, DC; R. Reeves Anderson, Arnold & Porter LLP, Denver CO.