Brief filed: 01/21/2010
Documents
United States v. O'Brien
United States Supreme Court; Case No. 08-1569
Prior Decision
Decision below 542 F.3d 921 (1st Cir. 2008).
Argument
Under Apprendi v. New Jersey (2000), if a sentence would be unreasonable absent a particular fact neither found by the jury or admitted by the defendant, the sentence would violate the defendant's Sixth Amendment jury trial right; in the instant case, whether the defendant brandished a "machinegun" during a robbery, triggering a 30-year mandatory minimum sentence, must be treated as an element of the offense.
Continue reading below
This is a sponsored ad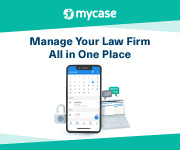 MyCase
Manage Your Law Firm All in One Place
Author(s)
Samuel J. Buffone and Aaron M. Katz, Ropes & Gray LLP, Washington, DC.