Brief filed: 09/21/2017
Documents
Tyler v. United States
United States Supreme Court; Case No. 17-5410
Prior Decision
On Petition for a Writ of Certiorari to the United States Court of Appeals for the Third Circuit.
Argument(s)
The doctrinal foundation for the separate sovereigns exception has eroded. The practical foundation of the separate sovereigns doctrine has also been eroded. The purview of federal criminal law has expanded dramatically since United States v. Lanza. Federal and state law enforcement often work jointly, not as separate sovereigns.
Coronavirus Resources
NACDL to Focus on Service and Support for Members, Clients, and Community Throughout Virus Emergency
Learn More
This is a sponsored ad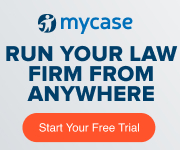 MyCase
Manage Your Law Firm All in One Place
Author(s)
Jonathan L. Marcus, Caroline S. Van Zile, and Ryan J. Travers, Skadden, Arps, Slate, Meagher & Flom LLP, Washington, DC; David M. Porter, NACDL, Sacramento, CA.