Brief filed: 06/05/2017
Documents
Supreme Court of New Mexico, et al. v. United States
United States Supreme Court; Case No. 16-1323
Prior Decision
Decision below 839 F.3d 888 (10th Cir. June 7, 2016).
Argument(s)
Attorney grand jury subpoenas erode attorney-client relationships, threaten to disqualify defense counsel and risk creating collateral litigation that serves to burden and distract defense attorneys; they are "disruptive at best, and fatal to the client's representation at worst." Max D. Stern & David Hoffman, Privileged Informers: The Attorney Subpoena Problem and a Proposal for Reform, 136 U. Penn. L. Rev. 1783, 1789 (1988). In turn, they risk giving prosecutors an unfair (if unintended) advantage. Rules like New Mexico's mitigate these risks by discouraging the use of attorney subpoenas except where necessary.
This is a sponsored ad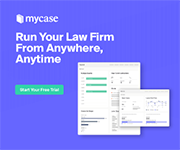 MyCase
Manage Your Law Firm All in One Place
Author(s)
Jeffrey T. Green and Milton P. Wilkins, Sidley Austin LLP, Washington, DC; Barbara E. Bergman, Tucson, AZ.