Brief filed: 03/21/2012
Documents
State v. Norfolk
Missouri Court of Appeals; Case No. SC 92252
Prior Decision
Decision below _____ SW.3d _____, 2011 WL 5541791 (Mo.App. 2011).
Argument(s)
After the trial court erroneously admitted evidence (firearm, ammunition and marijuana) seized in violation of the Fourth Amendment, the defendant admitted under oath that the gun and marijuana were his. The court of appeals held that while the trial court clearly erred in denying Norfolk's motion to suppress, given the defendant's confession in open court, the error was harmless beyond a reasonable doubt. When evidence is erroneously admitted at trial, the defendant's subsequent testimony cannot render that error harmless; Missouri's harmless error rule regarding subsequent testimony has been overruled by the U.S. Supreme Court and makes little practical sense.
This is a sponsored ad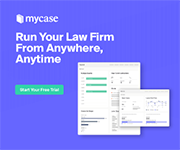 MyCase
Manage Your Law Firm All in One Place
Author(s)
Stewart Banner, UCLA Law School, Los Angeles, CA, Talmage E. Newton IV, Pleban & Petruska Law, LLC, St. Louis, MO, and Burton H. Shostak, Shostak Law LLC, Clayton, MO.