Brief filed: 08/31/2017
Documents
Simon v. City of New York
2nd Circuit Court of Appeals; Case No. 17-1281
Prior Decision
Decision below 2017 WL 1215724 (E.D.N.Y. March 19, 2017).
Argument(s)
It was clearly established that defendants were required to comply with the warrant's express terms and could not continue to detain a person arrested pursuant to the warrant by mistake. This Court should reject the lower court's dangerous holding that law enforcement officials who engage in an obviously unlawful practice should enjoy immunity from suit because such violations are 'common.'
Coronavirus Resources
NACDL to Focus on Service and Support for Members, Clients, and Community Throughout Virus Emergency
Learn More
This is a sponsored ad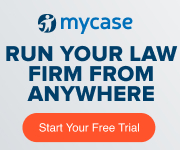 MyCase
Manage Your Law Firm All in One Place
Author(s)
Joel B. Rudin, NACDL, New York, NY; Richard D. Willstatter, NACDL, White Plains, NY.