Brief filed: 02/27/2013
Documents
Salinas v. Texas
United States Supreme Court; Case No. 12-246
Prior Decision
Decision below 369 S.W.3d 176 (Tex. Crim. App. 2012).
Question Presented
Whether or under what circumstances the Fifth Amendment's Self-Incrimination Clause protects a defendant's refusal to answer law enforcement questioning before he has been arrested or read his Mirandarights.
Argument(s)
The Fifth Amendment applies prior to arrest. Using silence as evidence of guilt compels a suspect to incriminate himself. The right to remain silent protects the innocent. Use of pre-arrest silence allows for police abuse and skews the balance between the individual and the state.
This is a sponsored ad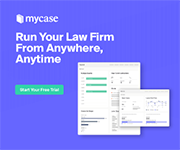 MyCase
Manage Your Law Firm All in One Place
Author(s)
Craig D. Singer and Jared L. Hubbard, Williams & Connolly LLP, Washington, DC; Jeffrey T. Green, Sidley Austin LLP, Washington, DC; and Angela Moore, Rogers & Moore, PLLC, Boerne, Texas.