Brief filed: 08/30/2013
Documents
Riley v. California
United States Supreme Court; Case No. 13-132
Prior Decision
Decision below 2013 WL 475242 (Cal.App. 4 Dist. Feb. 8, 2013), unpublished/noncitable (Feb. 8, 2013), review denied (May 1, 2013).
Argument(s)
The Supreme Court should grant the petition for writ of certiorari because the smartphone has assumed a unique role in modern society. The modern smartphone is a historically unique device with profound societal implications. Distributed computing and cloud data give mobile computing infinite capacity. Smartphone usage is now societally ubiquitous. This case presents the best vehicle for this Court's analysis. The smartphone in this case, unlike the phone in Wurie, may possess First Amendment overtones affecting the Fourth Amendment analysis. Lower court divisions make this the right time for this Court to consider the issue. The nature and societal use of mobile data compels the result that the Fourth Amendment prohibits the warrantless search of the data of a cell phone incident to arrest.
This is a sponsored ad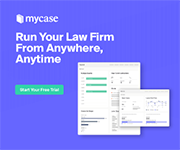 MyCase
Manage Your Law Firm All in One Place
Author(s)
Bronson D. James, Beaverton, OR; Jeffrey T. Green, Washington, DC.