Brief filed: 06/02/2009
Documents
Padilla v. Kentucky
United States Supreme Court; Case No. 08-651
Prior Decision
Case below 253 S.W.3d 482 (Ky. 2008), cert. granted 2/23/09.
Argument(s)
The Court should hold that the criminal defense function includes advising the client of every important consequence of a plea, in this case deportation for a non-citizen U.S. resident of 40 years and veteran of the U.S. Army resulting from a plea of guilty for trafficking in marijuana - an offense designated as an "aggravated felony" under the Immigration and Naturalization Act (INA). Accordingly, where, as here, such advice by counsel was not provided, the guilty plea, and conviction based on that plea, should be set aside.
This is a sponsored ad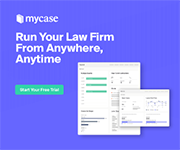 MyCase
Manage Your Law Firm All in One Place
Author(s)
Iris E. Bennett and Matthew Hersh, Jenner & Block LLP, Washington, D.C.