Brief filed: 01/14/2015
Documents
Ohio v. Clark
United States Supreme Court; Case No. 13-1352
Prior Decision
Decision below 137 Ohio St.3d 346, 2013-Ohio-4731.
Argument(s)
Teachers play a critical role in the prosecution of child abuse cases. Teachers question abused children for the primary purpose of gathering evidence for future prosecution. States assign other non-law enforcement officials to investigate child abuse cases. Reversing the Ohio Supreme Court would give law enforcement a roadmap to exempt child abuse testimony from confrontation. The right to confrontation through cross-examination is especially critical in child abuse cases because, as this Court has acknowledged, children are particularly susceptible to suggestion and often produce unreliable and imagined testimony.
This is a sponsored ad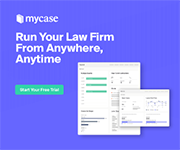 MyCase
Manage Your Law Firm All in One Place
Author(s)
Stephen A. Miller, Cozen O'Connor, Philadelphia, PA; David Porter, Sacramento, CA.