Brief filed: 04/30/2013
Documents
Obama v. Faidel Hussein Saleh Hentif
District of Columbia Circuit Court of Appeals; Case No. 12-5314
Argument(s)
Because Federal Rule of Appellate Procedure 4(a)(7) is not jurisdictional, it must be construed in favor of preserving a party's right to appeal. Parties must have clear notice of the event that starts the clock running for filing a notice of appeal. Construing Federal Rule of Appellate Procedure 4(a)(7) as starting the time running for the filing of a notice of appeal before the decision appealed from is available to the appellant thwarts appellant's ability to consult with his counsel and to make an informed decision whether to take an appeal.
Coronavirus Resources
NACDL to Focus on Service and Support for Members, Clients, and Community Throughout Virus Emergency
Learn More
This is a sponsored ad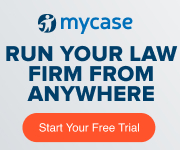 MyCase
Manage Your Law Firm All in One Place
Author(s)
Laura G. Ferguson, Timothy O'Toole and Mia P. Haessly, Miller & Chevalier Chartered, Washington, DC.