Brief filed: 08/09/2017
Documents
ODonnell v. Harris County, Tex.
5th Circuit Court of Appeals; Case No. 17-20333
Prior Decision
On Appeal from the United States District Court for the Southern District of Texas, No. 4:16-cv-01414.
Argument(s)
Detention negatively impacts the attorney-client relationship and results in less effective representation of indigent defendants. Harris County pressures indigent detainees to plead guilty rather than raise a defense. Indigent defendants suffer lasting effects from the poverty-imposed, disadvantaged path through the Harris County system.
This is a sponsored ad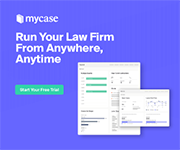 MyCase
Manage Your Law Firm All in One Place
Author(s)
Katherine R. Goldstein, Michael E. Kaufmann, and Joseph J. Kammerman, Milbank, Tweed, Hadley & McCloy LLP, New York, NY; Michelle Tuegel, Hunt & Tuegel, PLLC, Waco, TX; Nicole DeBorde, Bires Schaffer & DeBorde, Houston, TX.