Brief filed: 12/15/2014
Documents
Nelson v. Wisconsin
United States Supreme Court; Case No. 14-555
Prior Decision
Decision below State v. Nelson, 355 Wis.2d 722, 849 N.W.2d 317 (Wis. 2014).
Argument(s)
A complete bar on defendant's testimony at trial strips the defendant of control over a critical component of defense strategy and constitutes structure error. A complete bar on the testimony of the accused offends the dignity and autonomy interest underlying the right and demands reversal. Failure to resolve this issue threatens to erode confidence in the criminal justice system.
This is a sponsored ad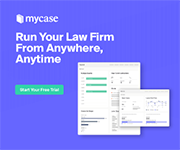 MyCase
Manage Your Law Firm All in One Place
Author(s)
Bruce E. Yannett, Debevoise & Plimpton LLP, New York, NY; Jeffrey T. Green, Washington, DC.