Brief filed: 03/09/2015
Documents
Kingsley v. Hendrickson
United States Supreme Court; Case No. 14-6368
Prior Decision
Decision below 744 F.3d 443 (7th Cir. 2014).
Argument(s)
The Court has assessed the objective reasonableness of alleged civil liberties deprivations by law enforcement personnel for more than a century. The Court has applied the objective reasonableness test to excessive force cases. The Court's reasoning in support of the objective reasonableness test is equally applicable to cases involving pretrial detainees.
This is a sponsored ad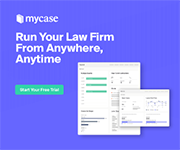 MyCase
Manage Your Law Firm All in One Place
Author(s)
Mitchell F. Dolin, Jeff Kosseff, David Metcalf, Covington & Burling LLP, Washington, DC; Barbara E. Bergman, Albuquerque, NM.