Brief filed: 04/21/2017
Documents
In Re the Personal Restraint of Heidi Charlene Fero
Supreme Court of the State of Washington; Case No. 92975-1
Prior Decision
Decision below 192 Wash.App. 138 ( (Wash.App.Div. 2, Jan. 5, 2016).
Argument(s)
A miscarriage of justice is not always evident until years later. DNA exonerations have exposed that faulty science often leads to wrongful convictions. Newly discovered evidence constitutes a claim for relief and an exception to the time bar. Advances in science can constitute newly discovered evidence. Due diligence should not require premature filing. Both the rule of lenity and the constitutional avoidance doctrine mandate the statutory construction urged by Ms. Fero.
This is a sponsored ad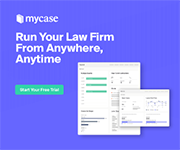 MyCase
Manage Your Law Firm All in One Place
Author(s)
Jeffrey Erwin Ellis, Law Office of Alsept & Ellis, Portland, OR.