Brief filed: 07/26/2013
Documents
Heath v. United States
United States Supreme Court; Case No. 12-11003
Prior Decision
Decision below 26 A.3d 266 (D.C. July 21, 2011).
Argument(s)
The question presented is of great importance to criminal defendants. The ability to present evidence in one's defense is a fundamental right accorded to criminal defendants by the Constitution. It is not merely a means of ensuring that trials are generally fair; rather, it stands alongside the right to confront witnesses and the right to counsel of one's choosing as essential elements of a fair trial, the violation of which is necessarily unconstitutional. The defense's ability to present favorable evidence is critical to our adversarial system. The question presented by this petition arises in a diverse range of circumstances during criminal proceedings and is frequently recurring, warranting the courts attention.
This is a sponsored ad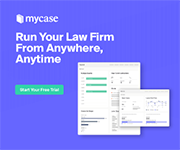 MyCase
Manage Your Law Firm All in One Place
Author(s)
Jonathan D. Hacker, Loren AliKhan, and Joanna Nairn, O'Melveny & Myers LLP, Washington , DC.