Brief filed: 08/12/2011
Documents
Gonzalez v. Thaler
United States Supreme Court, Jurisdiction; Case No. 10-895
Argument(s)
Appellate jurisdiction under Sec. 2253 of the Antiterrorism and Effective Death Penalty Act (AEDPA) does not depend upon a COA's conformity with technical formalities; direct review of a state criminal conviction cannot conclude for purposes of Sec. 2244(d)(1)(A) before the highest court to review the case relinquishes jurisdiction by issuing a mandate or its equivalent.
This is a sponsored ad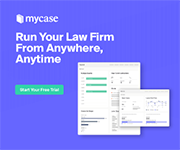 MyCase
Manage Your Law Firm All in One Place
Author(s)
Douglas Hallward-Driemeier, et al., Ropes & Gray LLP, Washington, D.C.