Brief filed: 04/30/2013
Documents
Gathers and Mitchell v. United States
District of Columbia Circuit Court of Appeals; Case No. 09-CO-422, 11-CO-1676 & 12-CO-1411; Nos. 11-CO-1677 & 12-CO-1412
Prior Decision
Appeal from the Superior Court of the District of Columbia, Criminal Division (Criminal Nos. 1993 FEL 10270 & 1993 FEL 11175).
Question Presented
May the Due Process Clause's prohibition on the government's use of false testimony to procure a conviction be waived by a defendant? Even if the Due Process Clause's protection in this regard may be waived, did the trial court apply the wrong standard to determine that defense counsel knowingly waived that protection?
Argument(s)
The obligations to not use false testimony and to correct any such false testimony belongs to the prosecutor and cannot be waived. Even if the Due Process protection against false testimony may be waived, the indispensable function it serves requires that the waiver standard be substantially more demanding than the standard the trial court utilized below. The Superior Court misapplied this court's holding in Bruce. Trial counsel did not know that Det. Had testified falsely. There was no tactical decision to permit the false testimony to go unchallenged.
This is a sponsored ad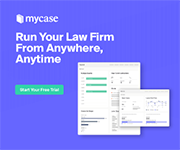 MyCase
Manage Your Law Firm All in One Place
Author(s)
Paul F. Enzinna and James P. Bair of Brown Rudnick LLP in Washington, DC.