Brief filed: 02/06/2017
Documents
Facebook v. San Francisco County Superior Court
Supreme Court of California; Case No. S230051
Prior Decision
Decision below 240 Cal.App.4th 203 (Cal.App. 1 Dist. Sept. 8, 2015).
Argument(s)
The Stored Communications Act does not prohibit the discovery of "public" posts and the Federal Constitution requires the discovery of private "posts." This Court should decide the constitutional issues at hand.
Coronavirus Resources
NACDL to Focus on Service and Support for Members, Clients, and Community Throughout Virus Emergency
Learn More
This is a sponsored ad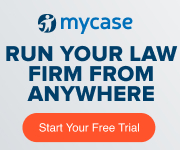 MyCase
Manage Your Law Firm All in One Place
Author(s)
Donald E. Landis, Jr., Law Offices of Donald E. Landis, Jr., Monterey, CA; John T. Philipsborn, Law Offices of John T. Phillipsborn, San Francisco, CA; David M. Porter, Sacramento, CA.