Brief filed: 04/07/2016
Documents
Facebook v. San Francisco County Superior Court
Supreme Court of California; Case No. S230051
Prior Decision
Decision below 240 Cal.App.4th 203 (Cal.App. 1 Dist. Sept. 8, 2015).
Argument(s)
The State Supreme Court can rule on the federal constitutionality of a federal statute as applied in a state court proceeding where the U.S. Supreme Court has yet to rule. Social media content does not rise to the level of privileged information protected until trial as defined by this Court's ruling in People v. Hammon. Hammonshould be overturned or limited to just the psychotherapist-patient privilege.
This is a sponsored ad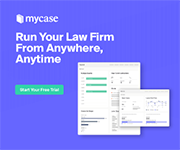 MyCase
Manage Your Law Firm All in One Place
Author(s)
Donald E. Landis, Jr., Monterey County Assistant Public Defender, Salinas, CA; John T. Philipsborn, Law Offices of John T. Phillipsborn, San Francisco, CA; David M. Porter, NACDL, Sacramento, CA.