Brief filed: 05/30/2014
Documents
Dunlap v. Idaho
United States Supreme Court; Case No. 13-1315
Prior Decision
Decision below 155 Idaho 345, 313 P.3d 1 (Idaho Aug. 27, 2013) (No. 32773, 37270), rehearing denied (Nov. 29, 2013).
Argument(s)
Whether the confrontation clause applies during capital sentencing hearings is unresolved. This Court's review is necessary to ensure that states may not strategically elude cross-examination of critical evidence.
This is a sponsored ad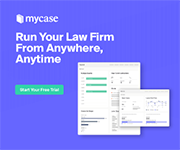 MyCase
Manage Your Law Firm All in One Place
Author(s)
Jeffrey T. Green and Nicholas J. Giles, Sidley Austin LLP, Washington, DC; David Porter, Sacramento, CA.