Brief filed: 08/31/2015
Documents
Davis v. United States
United States Supreme Court; Case No. 15-146
Prior Decision
Decision below 785 F.3d 498 (11th Cir. (en banc) May 5, 2015), panel decision 754 F.3d 1205 (11th Cir. June 11, 2014), case below No. 10-20896-CR (S.D. Fla. 2012).
Argument(s)
The number of cell phones and cell sites has dramatically increased in the last twenty years. Cell site location information (CSLI) paints a revealing portrait of a person's movements. The number of law enforcement requests for location information – requests predominantly made without a warrant – is increasing. Certiorari is necessary to resolve the judicial split on whether a warrant is required to obtain CSLI, particularly as Americans expect these records to remain private.
This is a sponsored ad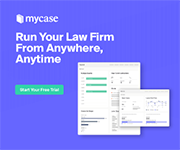 MyCase
Manage Your Law Firm All in One Place
Author(s)
Hanni M. Fakhoury, Jennifer Lynch, and Andrew Crocker, Electronic Frontier Foundation, San Francisco, CA; Michael Price and Rachel Levinson-Waldman, Brennan Center for Justice, New York, NY; Jeffrey T. Green, NACDL, Washington, DC.