Brief filed: 03/18/2013
Documents
Commonwealth v. Moody
Supreme Judicial Court of Massachusetts; Case No. SJC-11277
Question Presented
Whether G.L. Ch. 272 § 99 authorizes a Superior Court judge to issue a warrant permitting state law enforcement to intercept cellular calls and/or text messages.
Argument(s)
Cellular phone communications and text messages are not 'wire communications' under G.L. c. 272, § 99. Even if the language of the Massachusetts Wiretap Act covers cellular phone communications, Massachusetts state courts have no authority to issue wiretap warrants for such communications because the legislature did not update the statute as mandated by Congress.
Coronavirus Resources
NACDL to Focus on Service and Support for Members, Clients, and Community Throughout Virus Emergency
Learn More
This is a sponsored ad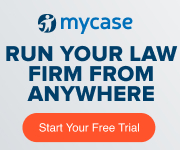 MyCase
Manage Your Law Firm All in One Place
Author(s)
Veronica J. White and Benjamin Leatherman of White & Associates, P.C. in Boston, MA; Peter Ettenberg of Gould & Ettenberg, P.C. in Worcester, MA; Frank Camera of the Law Office of Frank Camera in Fall River, MA; Peter Clifford of the Law Office of Peter Clifford in Worcester, MA; Max Stern on behalf of the Massachusetts Association of Criminal Defense Lawyers; and Michael J. Iacopino on behalf of the National Association of Criminal Defense Lawyers.