Brief filed: 10/26/2015
Documents
Commonwealth v. Depiero
Supreme Judicial Court of Massachusetts; Case No. SJC-11893
Prior Decision
Decision below 87 Mass. App. Ct. 105 (Feb. 19, 2015).
Argument(s)
When the basis for a motor vehicle stop is a stand-alone anonymous 911 telephone call, the Aguilar-Spinelli test should apply to the reasonable suspicion determination. Anonymous 911 calls are not inherently self-verifying and evolving technology requires the modernization of how the reliability is determined.
This is a sponsored ad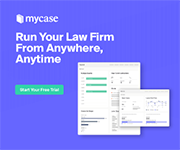 MyCase
Manage Your Law Firm All in One Place
Author(s)
Daniel K. Gelb, Gelb & Gelb LLP, Boston, MA.