Brief filed: 08/16/2013
Documents
Commonwealth of Massachusetts v. Brown
Supreme Judicial Court of Massachusetts; Case No. SJC-11454
Prior Decision
On reservation and report by the single justice of the Commonwealth's G.L.c. 211, § 3 petition, case below No. 09-00963 (Middlesex Superior Court, Kimberly S. Budd, J.)
Argument(s)
Massachusetts's mandatory life without parole sentencing scheme for juveniles convicted of first degree murder is unconstitutional under the United States and Massachusetts Constitutions. Marquise Brown should be sentenced based on the most severe lesser included offense of manslaughter. Mandatory life with parole sentences contravene Miller and Graham.
Coronavirus Resources
NACDL to Focus on Service and Support for Members, Clients, and Community Throughout Virus Emergency
Learn More
This is a sponsored ad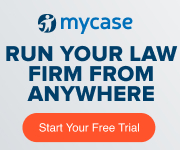 MyCase
Manage Your Law Firm All in One Place
Author(s)
Marsha L. Levick, Emily C. Keller, Lauren A. Fine, Juvenile Law Center, Philadelphia, PA.