Brief filed: 11/20/2017
Documents
Collins v. Virginia
United States Supreme Court; Case No. 16-1027
Prior Decision
Decision below 292 Va. 486 (Sept. 15, 2016)
Argument(s)
The police's warrantless intrusion into a home or its curtilage is presumptively unconstitutional. A showing of exigent circumstances is required to justify a warrantless intrusion on a person's home or its curtilage. An automobile's inherence mobility, in and of itself, is not a per se exigent circumstance justifying a warrantless intrusion on the home or its curtilage.
Coronavirus Resources
NACDL to Focus on Service and Support for Members, Clients, and Community Throughout Virus Emergency
Learn More
This is a sponsored ad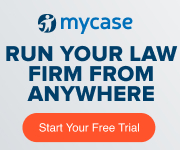 MyCase
Manage Your Law Firm All in One Place
Author(s)
Douglas Hallward-Driemeier and Emerson Siegle, Ropes & Gray LLP, Washington, DC; Aaron Katz and Deena Feit, Ropes & Gray LLP, Boston, MA; Jonathan Hacker, NACDL, Washington, DC.