Brief filed: 09/25/2012
Documents
Clapper v. Amnesty International USA
United States Supreme Court; Case No. 11-1025
Prior Decision
Case below 638 F.3d 118 (2d Cir. 2011).
Argument(s)
Section 702 of the Foreign Intelligence Surveillance Act of 1978, 50 U.S.C. 1881a (Supp. II 2008)-referred to here as Section 1881a - allows the Attorney General and Director of National Intelligence to authorize jointly the "targeting of [non-United States] persons reasonably believed to be located outside the United States" to acquire "foreign intelligence information," normally with the Foreign Intelligence Surveillance Court's prior approval of targeting and other procedures. 50 U.S.C. 1881a(a), (b), (g)(2) and (i)(3); cf. 50 U.S.C. 1881a(c)(2). Two of the plaintiff-respondents in this case are criminal defense lawyers for whom confidentiality is essential in their work. They are seeking both a declaration that Section 1881a is unconstitutional and an injunction permanently enjoining any foreign-intelligence surveillance from being conducted under Section 1881a.
In light of every attorney's duty of confidentiality, the petitioners, both "United States persons," are wrong to contend these plaintiff-respondents allege merely "speculative" and/or "self-inflicted injuries" from surveillance under the FISA Amendments Act (FAA), §1881a. FISA surveillance targets regions, persons and subjects heavily implicated by matters in which the respondents serve as defense counsel. They thus must choose between foregoing international communications about sensitive matters or incurring the expense and burden of traveling overseas for in-person communication. The court of appeals should be affirmed.
This is a sponsored ad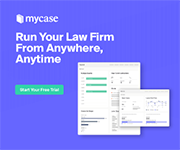 MyCase
Manage Your Law Firm All in One Place
Author(s)
John D. Cline, San Francisco, CA and Joshua Dratel, New York, NY.