Brief filed: 12/20/2017
Documents
City of Hays, Kansas v. Vogt
United States Supreme Court; Case No. 16-1495
Prior Decision
Decision below 844 F. 3d 1235 (10th Cir. Jan. 4, 2017).
Argument(s)
The Fifth Amendment's guarantee against self-incrimination applies at preliminary hearings. This principle is consistent with the Constitution's text and with precedent. Limiting the Self-Incrimination Clause's application to the criminal trial itself would severely prejudice defendants. The government's policy concerns do not withstand scrutiny.
This is a sponsored ad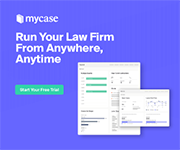 MyCase
Manage Your Law Firm All in One Place
Author(s)
Jeffrey A. Mandell, Laura E. Callan, Erika L. Bierma, Eileen M. Kelley, and Elizabeth C. Stephens, Stafford Rosenbaum LLP, Madison, WI; Barbara E. Bergman, NACDL, Washington, DC.