Brief filed: 11/30/2017
Documents
Carter v. Colorado
United States Supreme Court; Case No. 17-634
Prior Decision
On petition for a Writ of Certiorari to the Colorado Supreme Court, decision below 398 P.3d 124 (Colo. June 5, 2017).
Question Presented
Whether the bare-bones statement "you have the right to have an attorney," without any information about when the suspect has a right to an attorney, satisfies Miranda's requirement that a suspect be clearly informed of his right to an attorney before and during interrogation.
Argument(s)
The tactics that the interrogating officer was trained to use on Petitioner undermined Miranda. Law enforcement officers nationwide are trained to issue ambiguous and barebones Miranda warnings. Law enforcement officers routinely use tactics to minimize Miranda warnings to induce waiver as was done here. These tactics prevent suspects from understanding their Miranda rights.
This is a sponsored ad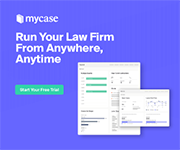 MyCase
Manage Your Law Firm All in One Place
Author(s)
Rex S. Heinke and Bryan M. Wittlin, Akin Gump Strauss Hauer & Feld LLP, Los Angeles, CA; Jeffrey T. Green, NACDL, Washington, DC.