Brief filed: 11/14/2008
Documents
Caperton v. A.T. Massey Coal Co.
United States Supreme Court; Case No. 08-22
Prior Decision
Opinion below 2008 WL 918444 (W.Va. 2008).
Question Presented
Whether Justice Benjamin's failure to recuse himself from participation in his principal financial supporter's case violated the Due Process Clause of the Fourteenth Amendment.
Argument(s)
Justice Brent Benjamin of the Supreme Court of Appeals of West Virginia refused to recuse himself from the appeal of the $50 million jury verdict in this case, even though the CEO of the lead defendant spent $3 million supporting his campaign for a seat on the court--more than 60 percent of the total amount spent to support Justice Benjamin's campaign-- while preparing to appeal the verdict against his company. After winning election to the court, Justice Benjamin cast the deciding vote in the court's 3-2 decision overturning that verdict.
This is a sponsored ad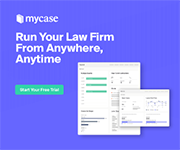 MyCase
Manage Your Law Firm All in One Place
Author(s)
Norman L. Reimer, National Association of Criminal Defense Lawyers, Washington, D.C. On brief: Pamela Harris, O'Melveny & Myers, Washington, D.C.