Brief filed: 08/11/2014
Documents
Brown v. Delhaize America, LLC, and Food Lion, LLC,
M.D.N.C.; Case No. 1:14-CV-00195
Argument(s)
Fair and accurate reporting of criminal record information is essential to protecting individuals' rights and opportunities. Background checks contain a high rate of errors with deleterious impacts on consumers. Creation of a Sec. 1681(a)(y) exclusion would remove nearly all FCRA protections from employment criminal records reports. Judicial enactment of a § 1681a(y) FCRA exclusion for every circumstance in which the employer has a "policy against employing those with certain criminal histories" – every employer who uses a criminal background check – would swallow the rule itself.
This is a sponsored ad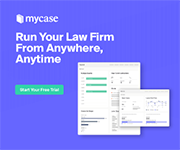 MyCase
Manage Your Law Firm All in One Place
Author(s)
John W. Van Alst, National Consumer Law Center, Boston, MA; Anita S. Earls and Daryl v. Atkinson, Southern Coalition for Social Justice, Durham, NC; Thomas K. Maher, Durham, NC, for the National Association of Criminal Defense Lawyers.