Brief filed: 02/11/2016
Documents
Birchfield v. North Dakota, Bernard v. Minnesota, and Beylund v. Levi
United States Supreme Court; Case No. 14-1468, 14-1470, and 14-1507
Prior Decision
Decisions below, respectively, 858 N.W.2d 302 (N.D. Jan. 15, 2015), 859 N.W.2d 762 (Minn. Feb. 11, 2015), and 859 N.W. 2d 403 (N.D. Feb. 12, 2015).
Argument(s)
Studies indicate that warrant procedures are more effective in reducing refusal rates than criminalizing refusals. Studies by NHTSA reveal that criminal refusal laws do not affect the rate of refusals. Criminalizing refusals has had no impact on prosecutions of high risk refusers according to government studies. Because the availability of electronic and telephonic warrants, laws criminalizing refusals to submit to warrantless tests in impaired driving cases are unnecessary. States continue to successfully prosecute thousands of drunk driving cases after police obtain warrants to draw blood. Technology advances allow police to obtain warrants in minutes. Threat of incarceration is a recognized means of psychological coercion and is well-established as a tool of behavior modification. Yet such legislative techniques run afoul of the Fourth Amendment.
This is a sponsored ad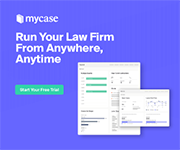 MyCase
Manage Your Law Firm All in One Place
Author(s)
Leonard R. Stamm, Goldstein & Stamm P.A., Greenbelt, MD; Donald J. Ramsell, Ramsell & Associates, L.L.C., Wheaton, IL; Jeffrey T. Green, NACDL, Washington, DC.