Brief filed: 03/15/2013
Documents
Arizona v. Hon. Jane A. Butler and Tyler B.
Arizona Supreme Court; Case No. CV-12-0402-PR
Argument(s)
Age and other circumstances particular to youth are crucial factors in assessing the voluntariness of a consent to a search under the Fourth Amendment. Where the search is conducted in the school setting, age is even more relevant to the voluntariness determination.
Coronavirus Resources
NACDL to Focus on Service and Support for Members, Clients, and Community Throughout Virus Emergency
Learn More
This is a sponsored ad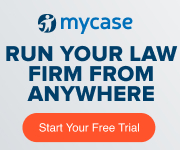 MyCase
Manage Your Law Firm All in One Place
Author(s)
Lourdes M Rosado, Juvenile Law Center, Philadelphia, PA; Jeanne Shirly, Tuscon, AZ.