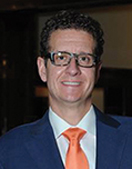 Todd S. Pugh is a partner with Breen & Pugh. Pugh received his Bachelor of Arts degree from Florida Atlantic University in Boca Raton, Florida, in 1993. While at Florida Atlantic, Pugh served as an intern with the Palm Beach County Public Defender's Office.
He worked directly under Chief Investigator Gayle Martin, a veteran investigator and death penalty mitigation specialist. As an intern, Pugh spent his mornings at both county jails visiting clients in preparation for trials. In the afternoons, he interviewed witnesses on the street and served trial subpoenas. Evenings were spent with the attorneys and other investigators reviewing the day's work and receiving the next day's tasks.
In 1994, Pugh entered DePaul University College of Law. While at DePaul, Pugh earned awards for excellence in Evidence, Criminal Law and Criminal Procedure. He was selected as a member of the DePaul Law Review, graduated with honors, and received the Order of the Coif for academic excellence. Pugh also worked for the Criminal Appeals Legal Clinic, where he earned a reversal for his first client on a post-conviction petition. See People v. Sidney Staten, No. 94 CR 2781 (Cir. Ct. Cook County).
Following his first year of law school, one of Pugh's law professors referred him to Professor Lawrence Marshall at Northwestern University Law School for summer work. At the time, Professor Marshall's work focused primarily on death penalty advocacy. Pugh worked with Professor Marshall and others on the successful appeal of Gary Gauger's conviction for the murder of his parents. Gauger's convictions were vacated and he was ultimately exonerated and pardoned after an unrelated federal investigation revealed the real offenders. See People v. Gary Gauger, 277 Ill. App. 3d 1114, 698 N.E.2d 724 (1996).
While working on Gauger's brief, Pugh joined a team of attorneys working on the retrial of Rolando Cruz for the rape and murder of 10-year-old Jeanine Nicarico in DuPage County, Illinois. This team of pro bono attorneys included Thomas Breen (now Todd's law partner), Matthew Kennelly (now a federal district court judge), Nan Nolan (now a recently retired federal magistrate judge), and Professor Lawrence Marshall (now Director of the Mills Legal Clinic at Stanford Law School). Pugh and a select few other law students provided research support for the attorneys in preparing the Cruz case for trial.
It was during the Cruz case that Pugh met Breen and came to greatly admire and respect Breen's work ethic, skill, and dedication. Pugh saw Breen literally place his private practice on hold and invest thousands of hours in Cruz's defense. The personal sacrifices that Breen and the other attorneys made to correct a terrible injustice left a lasting mark on Pugh. The day after the Cruz acquittal, Pugh asked Breen if he could stay on to work for him while Pugh finished law school. Breen agreed to take Pugh on as a law clerk. After his second year of law school, Pugh accepted a summer associate position with the law firm of Jenner & Block. During that summer, Pugh worked on a variety of cases, both criminal and civil. Of particular note was Pugh's work on the firm's pro bono representation of Dale Basten. Basten, along with two others, had been convicted of murdering a co-worker at the James River Corporation, in Green Bay, Wisconsin. See State v. Dale Basten, 217 Wis.2d 290, 577 N.W.2d 387 (Wis. App. 1998).
At the conclusion of his time with Jenner, the firm offered Pugh a permanent position following graduation. While Pugh was honored with Jenner's offer, he realized that his passion was full-time criminal trial and appellate defense. With this in mind, Pugh continued his work with Breen as a full-time law clerk and, after graduating law school, Pugh joined the law firm of Martin Breen & Merrick as an associate.
As an associate, Pugh quietly assisted Breen with dozens of complicated trials and numerous high-profile acquittals. In a recent interview, Breen described his relationship with Pugh as follows: "From the outset, I never viewed Todd as an associate or a 'second chair.' His abilities to analyze a case, construct a defense, and execute on cross-examination seemed almost innate. It had been many years since I entered the arena with such confidence in a trial partner."
While cutting his teeth in the State and Federal courtrooms with Breen, Pugh began distinguishing himself as a force in appeals and post-conviction matters. In 2000, Pugh achieved the rarest of appellate victories when he won an outright reversal of Donna Gist's murder conviction. Other appellate and post-conviction successes followed. In 2006, Breen made Pugh his partner in the firm as the pair continued in their successes.
In 2007, Leading Lawyers named Pugh one of the best criminal defense lawyers in Illinois. In 2008, Chicago Lawyer featured Pugh as one of the "Rising Stars of Trial Bar." Most recently, in 2012, Leading Lawyers listed Pugh as one of the "Top Ten" criminal defense attorneys in Illinois. Along with his partner Tom Breen, Pugh's catalog of trial experience includes some of Illinois' most memorable and complicated criminal cases.
Pugh has received national attention for his trial skills and frequently lectures on trial practice and forensic evidence. In 2013, Pugh joined the faculty at his alma mater, DePaul University College of Law, as an adjunct professor. He currently teaches Advanced Litigation Skills with Professor Robert Loeb. Pugh presently serves as President of the Illinois Association of Criminal Defense Attorneys.
Pugh is the recipient of several award and honors from NACDL. He was recognized with President's Commendations in 2018, 2019 and 2020. He received the Evelyn D. Reimer Award in 2020. He also became a member of the Illinois Supreme Court, Committee for Pattern Jury Instructions for Criminal Cases in 2021.
He is widely lauded as an expert in cases involving abusive head trauma, bloodstain pattern analysis, cause and manner of death, and ballistics. One veteran prosecutor dubbed him "the expert witness's worst nightmare."
Pugh is an avid motorcyclist and motorcycle-racing enthusiast. He is the Treasurer of Chicago Ducati Riders, a non-profit organization that supports several local charities. In 2016, he founded "shinysideuplaw.com", which supports the motorcycle road racing community. Pugh is an organizer of an annual motorcycle trip by members of the bar and judiciary.
Admitted to practice in the following courts: United States Supreme Court, Seventh Circuit Court of Appeals, Supreme Court of Illinois, Northern District of Illinois, Central District of Illinois, Eastern District of Wisconsin, Northern District of Indiana, Eastern District of Michigan, Eastern District of Tennessee
Bar associations and organizations: Chicago Inn of Court, Chicago Bar Association, Illinois Bar Association, Federal Bar Association, National Association of Criminal Defense Lawyers (Life Member), Illinois Association of Criminal Defense Lawyers (Life Member), Women's Criminal Defense Bar Association, American Board of Criminal Lawyers, Fellow (2020-).